Gail Davis, 21 October 2011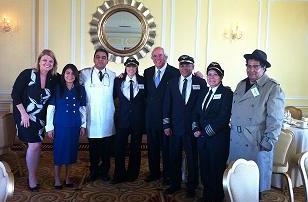 I have had the pleasure of working with Frank Abagnale for many years. I have booked Frank for large human resource conferences, corporate events and various organizations and associations.
You might know Frank's story from the movie, "Catch Me if You Can," which is now also a Tony award-winning play. His presentation is one that captivates the audience and let's your imagination run wild as a planner.
Last night's event was one of most cleverly themed events I have ever attended.
The organizer put her heart and soul into the details. You know it's really great when the speaker gets a big kick out of the theme!
The entire wait staff was dressed in various outfits to portray Frank's story. There were Pan Am flight attendants, pilots, doctors, an FBI agent and a prisoner. Those portraying pilots and doctors even had on the name tag with Frank's alias.
---
Gail Davis, 10 May 2011
Several members of my team and I attended the 10th Hart Global Leaders Forum yesterday at the Southern Methodist University (SMU) McFarlin Auditorium. We were there to watch his Holiness, the Dalai Lama, receive the SMU Doctor of Humane Letters honorary degree. It was an experience to remember.
First, the process of getting to our seats. Due to security concerns we were notified we had to be in our seats 30 minutes early as the doors would be locked and no cell phones or purses would be allowed. Do you know how weird it is to go anywhere without your cell phone these days? It turns out President George W. Bush and his wife, Laura Bush, were also in the audience.
---
Gail Davis, 05 May 2011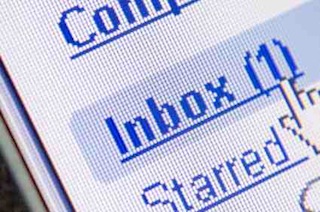 The IASB Conference proved once again why this industry matters. Speakers – even on unexpected topics – can inspire, expand your thinking or just give you a quick tip that will change the way you work every day.
Case in point: one of the speakers we heard was Laura Stack. A productivity pro.
Just as I was thinking that productivity pro was a new name for time management speaker, Laura gave me take home value that was worth the price of admission.
Here it is: I currently have 26,000 emails in my inbox. It's overwhelming. I'm sure many of you struggle with the same challenge. Laura does not agree with my approach so she gave me many tools for changing my methodology to email.
---
Gail Davis, 09 March 2011
Has the Give Back tour has come to an end? Or has it?
I went to my monthly EO meeting last night. People were telling me I looked great, asking if I had lost weight. My good friend, Sam Lam, the plastic surgeon, lingered and said, "You look really good." That is always a great feeling!
The truth? My weight is up and I have not had time for any plastic surgery.
It hit me what they were seeing was me radiating after giving back. Sure it was exhausting, but I was on a high from what I knew had been an incredible week.
When Andre arrived in town, I thought he was going to give nine speeches. He did so much more!
I want to give you a run down of what Andre did during this week. However, before I do, let me plant a seed for all you event planners and organizers out there. "Social Responsibility" is a big deal today.
Some say the younger generation will determine where they work based on the company's commitment to social responsibility. More and more events are becoming experiential. So when you read this run down, I encourage you to think about how your group could create similar impact by giving back.
Okay, here is the recap.
---
Gail Davis, 07 March 2011
Andre Norman takes his message to the suburbs!
Up until now, I have heard Andre speak to the disenfranchised - audiences everyone knows need encouragement. Then he came to the affluent Dallas suburb of Colleyville, Texas.
Proving he can read audiences and adjust his message, Andre made some interesting observations when he came to Colleyville. Lots of suburban kids have dads missing-in-action as well. Oh, they live in the house, but they are gone on business. Or when they are at home, they often have a smart phone stuck to their ear. He also mused that young kids living in 4,000+ square foot homes must feel incredible pressure to grow up one day and do as well if not better.
---
Gail Davis, 05 March 2011
Let me begin by saying thank you to everyone who came to the WOSC event on Thursday night. It was another amazing stop on the "Give Back Tour."
It's been a busy few days. Physically, intellectually, emotionally. When the alarm clock went off on Friday morning, I was not sure I could handle another visit.
So for a moment I considered skipping out on the last stop in Oklahoma.
The stop was the Granite State Reformatory.
Then I was thought about how much Andre was giving back. I mean, if he could get up and go again, I could do it. I got ready.
This was serious stuff. A real prison. A real wall. Images of every prison movie you have ever seen came flashing into my mind. I was very nervous.
---