Customer Service: Going Above and Beyond
Gail Davis, 25 January 2010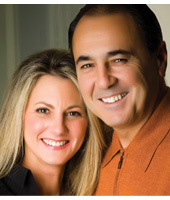 Anyone who travels knows the difficulties of airline travel. The Palermos were scheduled to fly to OKC via Dallas to Houston. Their flight was delayed for a couple of hours so they opted to get on another airline and fly direct to OKC. They checked their bags and when they got to the gate, their seats had been given away. At that point, there was no commercial option that could get them to OKC in time for the presentation.
Steve and his very determined wife, Debbie, were committed to honoring their commitment to me and to my client. So they chartered a private plane on their own dime. Yes, they chartered a private plane on their own dime.
In the interim, my team kicked into gear. While they were making arrangements we explored all of our options. We ran a quick search on speakers in a four-hour radius of OKC. We split the names among the team and called to see who was available. We presented the options to our client. He selected one and was actually having a prep call when word came that the plane had been chartered.
The teamwork did not stop there. I called my son , Luke, who is a Jr. at the University of Oklahoma. He has worked for me during the summer and understands our culture. He was given the assignment of going to the airport and retrieving the checked bags. He then took them to the FBO where the private plane was landing. He met Steve and Debbie and waited for them to change. Then he drove them to the venue.
Meanwhile, I hopped in my car and drove to OKC to be onsite. I felt it was critical to be there to make sure everyone was okay. And okay they were! Steve delivered a great talk and got great reviews. More importantly, he solidified in my mind and in the mind of my client that he is committed to customer service.