An Epic Trip
Gail Davis, 08 July 2010
There was also an area called The Epic Club which is similar to the concierge club at some hotels. It has a private club, dining, pool and other amenities. The rooms are nicer and it almost feels like a ship inside a ship.
This ship will appeal to those who love entertainment and or those travelling with families. There is no shortage of activities including water slides, bowling alleys, bungee jumping to name a few. The entertainment on the ship includes Blue Man Group, Second City and a Cirque Dinner show. The Cirque concept is the creative genius of my friend Neil Goldberg. USA Today Article on Neil's Entertainment Concepts for Epic
I have done numerous events with Neil when I managed corporate incentive events at EDS. He has taken his concept and created an evening that includes fabulous costumes and incredible talent. The show does not stop once it starts. When it is over you will have seen incredible acts and, oh by the way, finished a three course meal. Neil is involved in every aspect of selecting the menu, décor…..the food was good but I barely remember it because so much was going on inside the Spiegel Tent.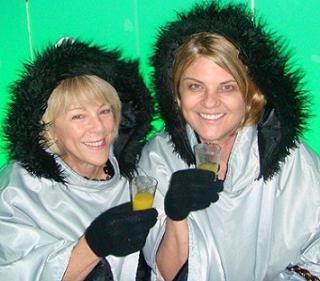 My personal favorite on the ship was the Ice Bar….just because for me it was a new experience. The ice bar is kept at a constant 17 degrees Fahrenheit. It has ice carvings inside. You wait in line and are fitted with gloves and a cap which has faux fur. A wide variety of vodka drinks are served. It was fun. I made it about 15 minutes.
I was a guest of Jo Kling. Jo is one of the founders of Landry and Kling which is a destination management company for ships. I have used their services on a half ship charter and a full ship charter. It is great to have their experience and expertise when navigating the course for taking a group on board.
The ship docked in NYC on July 4 so we stayed for the festivities. We stayed at The Hudson hotel. Our hotel selection was made based on the rooftop situation for fireworks….Turns out the location was great. We had been warned that the rooms were small. We had a double double and I thought they were more than ample in terms of space.
This was my fourth trip to NYC this year. I realized it had been a while since I had seen a play so that was a priority this trip. We went to Lincoln Center to see South Pacific. It was fantastic. The set is really grand, great story line, wonderful voices, and memorable songs. And a real tear jerker! I really enjoyed it. There is just nothing like a live performance.
One morning I met my long time friends at a new Kimpton hotel called Ink 48. I was very impressed. It is located on the west side at 48th and 11. Sounds like their rooftop was even more ideal for the fireworks….so keep this location in mind when the fireworks are set off in the Hudson.
The building used to be an old printing facility. They have carried that theme into the naming of the restaurant which is Print and the bar which is called Press.
We walked downtown taking on the new high line. This is a really cool concept where they have developed the old elevated subway line into public park space. There are great gardens, architecture and art along the way. It is not completed but what is done is fabulous. We got on it using the stairs at 20th and 11. We walked all the way to the end at Gansevoort Street. This dropped us off in the meatpacking district. This is a fun area with restaurants and a great vibe.