A First Class Event
Gail Davis, 21 October 2011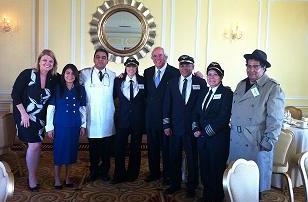 I have had the pleasure of working with Frank Abagnale for many years. I have booked Frank for large human resource conferences, corporate events and various organizations and associations.
You might know Frank's story from the movie, "Catch Me if You Can," which is now also a Tony award-winning play. His presentation is one that captivates the audience and let's your imagination run wild as a planner.
Last night's event was one of most cleverly themed events I have ever attended.
The organizer put her heart and soul into the details. You know it's really great when the speaker gets a big kick out of the theme!
The entire wait staff was dressed in various outfits to portray Frank's story. There were Pan Am flight attendants, pilots, doctors, an FBI agent and a prisoner. Those portraying pilots and doctors even had on the name tag with Frank's ali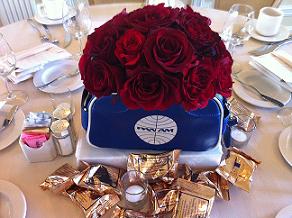 as.
The centerpieces were vintage Pan Am bags with red roses. Back in the day, Pan Am gave out red roses in first class. Scattered around the centerpieces were small packages of peanuts. It set the tone for an unforgettable evening.
Frank spoke after dinner. As usual, the audience hung on every word. They love hearing the real version of the story Leonardo DiCaprio made famous. Groups are always shocked at the powerful message at the end. It is a message about the importance of family.
Frank believes every kid deserves a mother and a father. He makes no excuses for what he did and expresses gratitude that he lives in a country that allowed him to redeem himself. He has paid back all of his debts, has been married to the same woman and worked for the FBI for more than 30 years.
This morning many members of the audience returned to hear Frank's fraud seminar. An ironic twist – a story born from infamy now entertains and educates on a level that only a famously, fantastic speaker can do.