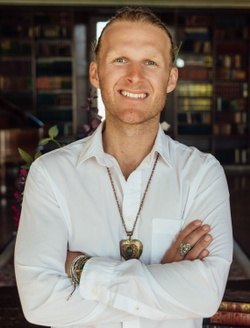 ---
Please contact a GDA agent for information.
---
Topics
Click on the topic name to see other speakers tagged with this topic.
---
Photos
Click on the image to view a high res version.
Finnian Kelly
Keynote speaker on Intentionality & expert in personal and organizational transformation
A seasoned leadership coach behind business, finance, non-profit, military, and spiritual leaders across the globe, Finnian helps companies, organizations, and individuals unlock the power of Intentionality in solving some of the world's greatest challenges. By combining his passions for data, science, and psychology, Finnian uses a hands-on, immersive approach for moving people from a place of disempowerment to one of clarity, confidence, and meaningful contribution. Finnian is an expert in human and organizational transformation and a master of a number of modalities including: energy interventions, breathwork, meditation, entrepreneurial coaching, movement and emotional clearing. Finnian has a Masters of Science in Positive Psychology and Applied Coaching and degrees in maths, physics, teaching, finance and leadership. Finnian's work with individuals, teams, organizations, and underprivileged communities has been featured on National Geographic's Undercover Angel, Business Insider, Forbes, Sky Business, ABC, Smart Company, and more.
---