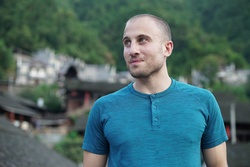 ---
Please contact a GDA agent for information.
---
Topics
Click on the topic name to see other speakers tagged with this topic.
---
Chris Bashinelli
Actor & Activist
Born and raised in Brooklyn, NYC, Chris Bashinelli, also know as 'Bash', gave up an acting career with The Sopranos (HBO) to pursue more 'meaningful' pursuits. A socially conscious member of the modern world, Bash hosts the "Bridge the Gap" TV series (on PBS and the National Geographic Channel), which takes viewers on an international adventure, walking in the shoes of people halfway around the world. He has harvested buffalo with Native Americans in Pine Ridge, lived as a nomad in Mongolia, and Sumo Wrestled the heaviest Japanese human being in recorded history.
He empowers each of us to become Global Citizens, productive members of our organization, our family, and ultimately, the world. Bash's talks on connecting with and accepting others, help to power performance and are perfect for service-oriented audiences, top performers and where a multi-cultural or global perspective is important.
BASH & NAT GEO: Bash was recently in China filming a new TV Series for National Geographic living with families in remote villages and exploring traditions 2,500 years old. More to come as we have it available.
---