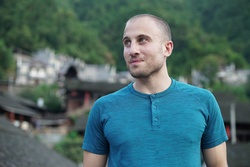 ---
Please contact a GDA agent for information.
---
Topics
Click on the topic name to see other speakers tagged with this topic.
---
Chris Bashinelli
Featured
National Geographic Explorer & TV Host
Select Testimonials
Chris has a passionate, captivating personality, and is a truly inspirational speaker. He breaks through cultural and generational boundaries and puts life into perspective. He ignites sincere emotions, which tend to get lost in our full and busy lives. His message inspires individuals to become more committed members of the society. Chris motivates with vivid stories from all over the world and encourages people to use obstacles as building blocks and to see "failures" as lessons. And, he reminds us that success in business and in life also comes from thinking outside our own boundaries.
---
Caesars Entertainment is committed to our core value of building community and "Bash" magnified the importance of that value in style… Chris Bashinelli's powerful keynote at one of our flagship events helped drive home the true meaning of cultural awareness and compassion. By inviting clients and co-workers to sit on our "stoop", we can strengthen any relationship. He reminds us to simply start where we are and we will see our partnerships and business relationships grow. When we care about each other and the communities we live and work in, the stakes become that much more important, and the positive results are evident. I highly recommend "Bash" for any corporate event."
---
"Chris Bashinelli was the closing guest speaker at the Entrepreneurs Organization's Global Leadership Conference in Manila, Philippines. His dynamic entrance, larger than life, unabashed manner turned heads, our attention on him right from the start. Chris tells an amazing story of his life, his quest and his vision. For someone so young, he's done some crazy stuff. He had the audience captivated mentally and emotionally. He totally owned the space and the hour of his presentation. Great guy."
---
"Chris you were absolutely amazing and a pleasure to work with. You are so comforting to be around and I feel as if I have known you for years! Chris connected with our audience in a way that captivated them, and left them wanting more. For the Greater Nashville Apartment Association Chris absolutely exceeded our expectations on delivering our goal to Educate, Empower & Motivate our members."
---