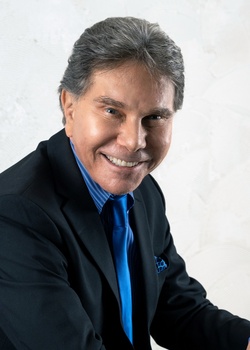 ---
Please contact a GDA agent for information.
---
Topics
Click on the topic name to see other speakers tagged with this topic.
---
Robert B. Cialdini, PhD
New York Times Bestselling author and the foundational expert in the science of influence
Dr. Robert Cialdini (pronounced "Chell-dini") has spent his entire career conducting scientific research on what leads people to say "Yes" to requests. The results of his research, his ensuing articles, and New York Times bestselling books have earned him an acclaimed reputation as a respected scientist and engaging storyteller.

His books, including Influence and Pre-Suasion, have sold more than seven-million copies in 44 different languages.

Dr. Cialdini is known globally as the foundational expert in the science of influence and how to apply it ethically in business. His Seven Principles of Persuasion have become a cornerstone for any organization serious about effectively increasing their influence.

As a keynote speaker, Dr. Cialdini has earned a world-wide reputation for his ability to translate the science into valuable and practical actions. His on-stage stories are described as dramatic and indelible. Because of all of this, he is frequently regarded as "The Godfather of Influence".

Dr Cialdini is Regents' Professor Emeritus of Psychology and Marketing at Arizona State University. Dr. Cialdini received his PhD from University of North Carolina and post-doctoral training from Columbia University. He holds honorary doctoral degrees (Doctor Honoris Causa) from Georgetown University, University of Social Sciences and Humanities in Wroclaw, Poland and University of Basil in Switzerland. He has held Visiting Scholar appointments at Ohio State University, the University of California, the Annenberg School of Communications, and the Graduate School of Business of Stanford University.

In acknowledgement of his outstanding research achievements and contributions in behavioral science, Dr. Cialdini was elected to the American Academy of Arts & Sciences in 2018 and the National Academy of Sciences in 2019.

Dr. Cialdini is President and CEO of INFLUENCE AT WORK.

His clients include: Microsoft, Cisco Systems, Kimberly-Clark Corporation, Bayer, KPMG, AstraZeneca, Twitter, MDRT, Merrill Lynch, Nationwide Insurance, Prudential, Kimberly-Clark, Harvard University - Kennedy School, The Weather Channel, NATO, Novo Nordisk, RE/MAX, Wells Fargo, SXSW, Blue Cross Blue Shield, BAE Systems, Northwest Mutual, World Economic Forum, World Knowledge Forum, Allianz, SAP, Gartner, Sutter Health, MENSA, Pacific Life Insurance, London Business Forum, Thomson Reuters, Ogilvy and London School of Economics

Media coverage of Dr. Cialdini and his research include: Dateline NBC, CNBC, CNN, ABC, PBS, the Washington Post, On Wall Street, Forbes Magazine, Business Week, the Chicago Tribune, the Los Angeles Times, USA Today, The New York Times, Harvard Business Review and Fortune Magazine.
---