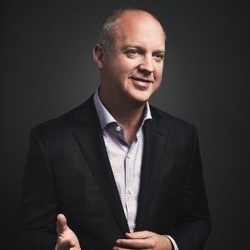 ---
Please contact a GDA agent for information.
---
Topics
Click on the topic name to see other speakers tagged with this topic.
Brad Deutser
Founder + CEO at Deutser | Author | Speaker
Brad Deutser (pronounced Dight-zer), author of Leading Clarity: the Breakthrough Strategy to Unleash People, Profit and Performance, is the founder, President and CEO of Deutser, an award-winning management consulting firm, think tank and learning lab that works with leaders to create great companies inside and out. Comprised of social scientists, artists and business consultants, Deutser restores organizational clarity through a unique and customized approach, starting at the core and working out to the exterior face of the brand. Informed by in-depth research and an acute awareness of leadership and culture, Deutser creates unconventional solutions with world-class design that improve organizational performance. The firm has offices in Houston and conducts work across the world.

Brad is the visionary behind the company and guides its leadership practice. He is a trusted counselor and executive coach, as well as a leadership/creative strategist for CEOs, Board Chairs and top corporate management. His unique insight and approach to organizational clarity has transformed many prominent educational, healthcare, energy, business, private equity, and cause-based organizations.
Brad is equally thoughtful and thought provoking, he creates connections for the leader in each of us that changes futures. Brad entertains, challenges and presents fundamentally new concepts to address the daily conundrums that leaders, at all levels and all places in life, face. He is entertaining, personable and a "master storyteller," who harkens back to his early days working at Ringling Bros and Barnum Bailey Circus and Walt Disney World on Ice for stories and inspiration. Brad presents an entertaining style packed with valuable insights from today's business insiders representing a range of industries made more valuable with actionable take a-ways.

Brad transforms how leaders build great, highly sustainable companies inside and out — especially in times of transition. His piercing view of "performance inside the box," unwavering commitment to leading with positivity and innovative way to humanize organizations presents new approaches to leading in complex times. In his new book, Leading Clarity: The Breakthrough Strategy to Unleash People, Profit and Performance, Brad introduces the process to achieving clarity and changing the trajectory of modern business. His counsel and distinctively creative perspective is sought by CEOs, Board Chairs and top corporate management for high-profile organizations – including Fortune 500 companies and publicly traded companies in the energy, aviation, health and financial services sectors, as well as leading nonprofits, including education, healthcare, literacy, inclusion, among others. His innovative approach to clarity and its connection with people inside organizations has driven business performance across the world. He is a frequent speaker on Clarity in an Unclear World; Innovating Inside the Box; Humanizing Safety: Good Kills; Leader of YOU: Managing Transitions; Stop Communicating: Start Engaging; Leading with Less Than 100% of the Truth; Clarity and the Human Condition; and Leading from the Middle.

Brad speaks on clarity, organizational health and performance. He is active in the nonprofit community, as evidenced by his firm's recognition from National Philanthropy Day, and he serves in leadership and board chair capacities for many organizations including Young Presidents' Organization. He is a graduate of The University of Texas.
---