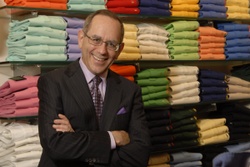 ---
Please contact a GDA agent for information.
---
Topics
Click on the topic name to see other speakers tagged with this topic.
---
Michael Solomon
Expert on Consumer Behavior
We buy what we are and we are what we buy.
Michael "wrote the book" on understanding consumers. Literally. Hundreds of thousands of business students have learned about Marketing from his books including Consumer Behavior: Buying, Having, and Being -- the most widely used book on the subject in the world.
Much in demand as a keynote speaker, Michael often is asked to provide briefings to global executive teams who want significant increases in their bottom line and who understand that's accomplished by a deeper connection with their customers.
Michael's mantra: We don't buy products because of what they do. We buy them because of what they mean. He advises global clients in leading industries such as apparel and footwear (Calvin Klein, Levi Strauss, Under Armour, Timberland), financial services and e-commerce (eBay, Progressive), CPG (Procter & Gamble, Campbell's), retailing (H&M), sports (Philadelphia Eagles), manufacturing (DuPont, PP&G) and transportation (BMW, United Airlines) on marketing strategies to make them more consumer-centric. He regularly appears on television shows including The Today Show, Good Morning America and CNN to comment on consumer issues, and he is frequently quoted in major media outlets such as The New York Times, USA Today, Adweek and Time.
As Professor of Marketing (in the Haub School of Business at Saint Joseph's University in Philadelphia) and an industry consultant, Michael combines cutting-edge academic theory with actionable real-world strategies. He helps managers get inside the heads of their customers so they can anticipate and satisfy their deepest and most pressing needs – today and tomorrow. An executive at Subaru said it best: "The man is a scholar who is current and street-wise."
Michael's most requested keynote, "Earth Shaking Trends: What You Need To Know Now About Keeping Your Top Consumers," will help you to reach – and engage – fickle customers. He will show you how to harness the power of collaborative consumption. He will inspire you to turn customers from pawns into partners as you develop new products and communications strategies.
Michael is passionate about the extraordinary world of the ordinary consumer. He brings humor and arresting visuals to his keynotes to show how everyday behaviors are much more meaningful than you thought – and an essential pathway to grabbing the attention and loyalty of your customers. The marketing guru Philip Kotler summed it up when he stated, "Solomon has the mind of a scientist and the writing flair of a journalist."
---