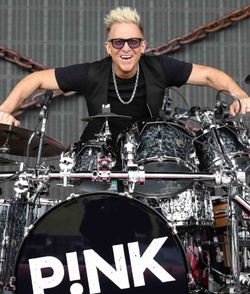 Photo Credit: Mark Schulman
---
Please contact a GDA agent for information.
---
Topics
Click on the topic name to see other speakers tagged with this topic.
---
Photos
Click on the image to view a high res version.
Mark Schulman
Featured
World-class drummer for PINK, Foreigner, Billy Idol, Beyonce', Cher & Author
Select Articles
How P!NK's Drummer Gets Over Stage Fright

Fortune, September 2016: Try this exercise: Think about the biggest mistake you could make…yes THAT one! Get free to create it in your mind, exaggerate it and cause the very thing that you 'fear' to happen. Now you're on your way to overcoming life's stage fright. As a rock drummer for bands, such as P!NK, Cher and Foreigner, I know how absolutely crucial it is to overcome and never give in to stage fright.

Top Corporations Book Rock Star Drummer To Instill Rock Star Confidence

The Huffington Post, August 2015: Conquering Life's Stage Fright is no easy task, but for one celebrity rock star, it's his life's passion. He is Mark Schulman, a a celebrity drummer who has played on the world's biggest stages alongside some of the world's biggest entertainers like P!NK, Cher, Foreigner, Velvet Revolver, Stevie Nicks, and more. Mark is also featured in the upcoming movie, Hired Gun.

How To Survive Touring With Superstars

Fortune, August 2014: Mark Schulman, professional drummer and corporate speaker, has been on the road with Cher, Pink, and Stevie Nicks.
---