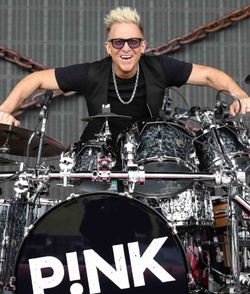 Photo Credit: Mark Schulman
---
Please contact a GDA agent for information.
---
Topics
Click on the topic name to see other speakers tagged with this topic.
---
Photos
Click on the image to view a high res version.
Mark Schulman
Featured
World-class drummer for PINK, Foreigner, Billy Idol, Beyonce', Cher & Author
Select Testimonials
I just wanted to say THANK YOU for a great presentation to my very demanding client in Las Vegas last week. I have heard nothing but glowing reviews from everyone. But let's be honest...I'm a tougher critic than anyone else who was in the audience. With 23 years booking keynote speakers for corporate events, I really have "seen them all". As I mentioned to you, most of my clients have been with me for 10-20 years and I work hard to learn about each audience so that I can place speakers in situations where they will be successful. I would say that you exceed that expectation. This is a very technical audience that rarely gives a standing ovation, so the fact that the drummer for P!NK received a standing ovation from this audience says quite a bit. I was most impressed by two things: 1) your storytelling ability had the audience captivated from start to finish and 2) I love the way you brought the audience along for the ride through audience interaction. You made me look good for recommending you and you made the meeting planner look like a hero to her executives and attendees for booking you.
---
Mark...what a great event you created for all at the ACG Company Retreat last week! You blew the roof off the retreat with rock music/drumming and a message that not only rocked but also tied into our retreat theme. The team here is still buzzing.
---
You were Awesome!! The colleagues have not stopped raving about you - the material & your message.
---
It's not easy to get a standing ovation from a corporate audience; Mark got two! Mark Schulman's keynote address was truly a great success and made me, the event planner look like a Rock Star!"
---
"He was literally amazing. Hands down the best keynote we've ever had. On top of it all he's just a great guy. He spent the entire day (and night) with us. Spoke to and took photos with every attendee that approached him. He even jumped in and performed at our attendee party with our corporate rock band. This is going to be hard to top next year, so start thinking!!!"
---
Select Client Feedback
Mark did a fantastic job! He was very entertaining and had some messages that really touched people. Mark was so very personable both before and after his keynote. He made time to have lunch with a few of our Centric "rockers" and spent a solid hour after the meeting talking to people and signing the drum sticks. He was very flexible with the hotel and with us. He used electronic drums for the first time to keep the volume down per the hotel's request. He helped us out with the end of our meeting as well with a couple of funny things on stage. The crowd was engaged the whole time!
---