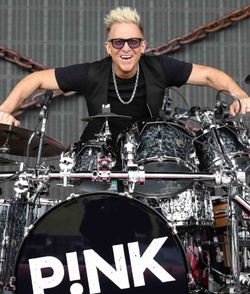 Photo Credit: Mark Schulman
---
Please contact a GDA agent for information.
---
Topics
Click on the topic name to see other speakers tagged with this topic.
---
Mark Schulman
Featured
World-Renowned Drummer; Author; Motivator; Expert, The Secrets of Rockstar Performance
Mark Schulman is a monster drummer who's toured the world with some of the greatest rock and pop performers – before crowds as big as 225,000. He's played with P!NK, Billy Idol, Cher, Stevie Nicks, Foreigner, Simple Minds, and others over his 32-year touring career.

Mark is also amazing on another stage – as a speaker, where he delivers a rock show disguised as a keynote.

"I've learned about the importance of attitude as part of the touring family with these great performers," Mark says as he unpacks the secrets of rockstar performance. His presentations translate lessons learned during his remarkable career into valuable tips for organizations, teams, leaders, and those who want to be their absolute best.

Mark Schulman is a brilliant storyteller and performer who inspires audiences to engage and unleash their inner rockstar. Mark's first book, Conquering Life's Stage Fright, shows people how to harness doubt, fear, and anxiety to perform at their best when it matters most. His next book, The Attitude Equation, is slated for late 2023 release. Mark is also a judge and coach on an all-new original music competition television show called BANDED on AXS TV.
Mark Schulman grew up in Los Angeles and is a classically trained cellist. As a teen, he played with the Los Angeles Junior Philharmonic. He later even played cello on the 2009/2010 P!NK tour.

During his unprecedented career over the last 32 years, Mark has been a first-call drummer for world-class rock and pop artists. He was voted "Top 3 Pop-Rock Drummers" in the Modern Drummer Readers Poll in 2014 and was the featured cover artist in the May 2019 issue of Modern Drummer. Mark did four record-breaking world tours with P!NK over 15 years.

Mark's resume reads like a "Who's Who" of international rock 'n' roll royalty, including acts such as Cher, Billy Idol, Foreigner, Sheryl Crow, Stevie Nicks, Beyonce, and so many other world-class artists. He has drummed with Velvet Revolver at Ozzfest and for a crowd of 225,000 at Glastonbury Festival with Simple Minds. Mark has appeared on nearly every American, European, and Australian variety show including the Grammy Awards, Late Night with David Letterman, The Tonight Show, Late Night with Conan O'Brien, The Daily Show with Jon Stewart, American Idol, The Paul O'Grady Show, The X Factor, Wetten, dass..?, the ARIA Awards, and more.

Mark's fan base extends way beyond the rock 'n' roll stage. Fans of his other career, as a top motivational speaker, exist at companies and organizations he's spoken for, including American Express, Microsoft, IBM, DELL Cisco, Aveda, Kaiser, NCAA, SAP, and more. To date, Mark has performed over 2,000 keynotes, 1,000 music clinics, and for over a billion people.

Offstage, Mark is passionate about teaching and helping others. He was the chairman of Create Now!, a non-profit organization founded in 1996 to help change troubled children's lives through creative arts mentoring. A cancer survivor himself, Mark has also motivated children and teens through his work doing seminars with the Ronald McDonald House and benefits for the Teenage Cancer Trust in the U.K.

An active educator, Mark taught at the Los Angeles Music Academy and is one of the world's most sought-after drum clinicians, hosting clinics around the world. Mark produced his first instructional DVD in his studio, A Day in the Recording Studio; A Do-It-Yourself Guide to Recording Great Drum Tracks for Drummers and All Musicians distributed by Hudson Music. The Mark Schulman Signature Snare Drum is one of the best-selling signature products in the history of GRETSCH.

Mark's first book, Conquering Life's Stage Fright, shows people how to harness doubt, fear, and anxiety as it relates to any performance or presentation and transform that into clarity, capability, and confidence. Mark has finished his second book, The Attitude Equation, which lays out a powerful path to happiness and achievement: Attitude x Behavior = Consequence. Mark and his writing partner Dr. Jim Samuels have interviewed rockstar performers across all industries about how ATTITUDE has driven BEHAVIOR to produce world-class CONSEQUENCES in their lives. The book is slated for release in late 2023.

In May 2023, Mark became a judge and coach for an all-new original music competition television show called BANDED. The show redefines the "build-a-band" concept and pairs up-and-coming artists with top coaches. Besides judging, Mark will coach one of the rock outfits.

Mark is also a music producer, trained audio engineer, and studio co-owner of West Triad Recording Studio in Venice, California.
---