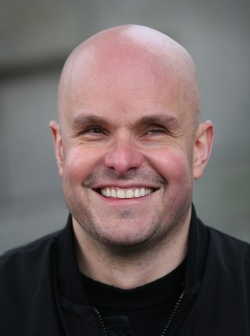 ---
Please contact a GDA agent for information.
---
Topics
Click on the topic name to see other speakers tagged with this topic.
---
Mark Pollock
Explorer, Innovator, & Collaboration Catalyst
Mark helps people achieve more than they thought possible. It is tough to deliver world class performance. Your people won't do it by chance. With a high-impact catalyst you can help them act with the courage to make it happen. Mark Pollock is that catalyst.
Unbroken by blindness in 1998, Mark went on to compete in ultra endurance races across deserts, mountains, and the polar ice caps including being the first blind person to race to the South Pole. He also won silver and bronze medals for rowing at the Commonwealth Games.
In 2010 Mark was left paralysed after falling from a second story window. He is now exploring the frontiers of spinal cord injury recovery combining an innovative electrical stimulator over his spinal cord and a drug super-charging his nervous system whilst walking hundreds of thousands of steps as the world's leading test pilot of Ekso Bionics robotic legs.
Through the Mark Pollock Trust (www.markpollocktrust.org) he is on a mission to find and connect people around the world to fast-track a cure for paralysis.
---