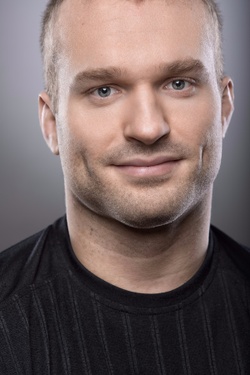 ---
Please contact a GDA agent for information.
---
Topics
Click on the topic name to see other speakers tagged with this topic.
---
Hear Kyle's
Podcast Now
Kyle Maynard
Inspirational Athlete, Entrepreneur & Author of No Excuses
Kyle Maynard is a motivational speaker, best selling author, entrepreneur, award-winning extreme athlete, and the first man to crawl to the summit of Mount Kilimanjaro.
Oprah Winfrey called Kyle "one of the most inspiring young men you will ever hear about." Arnold Schwarzenegger described him as "the real deal," "a champion human," and "one of the most inspiring people" he's ever met. Even the great Wayne Gretzky has spoken of Kyle's "greatness."
Despite being born with a rare condition known as congenital amputation, that has left him with arms that end at the elbows and legs that end near his knees, he learned early on, to live life independently and without prosthetics. Kyle thrives on physical challenges and is a champion wrestler, CrossFit Certified Instructor and gym owner, competitive Mixed Martial Arts/Brazilian Jiu-Jitsu fighter, world record-setting weightlifter, and skilled mountaineer.
"I believe each of us has a disability to overcome – and not all of them can be seen.
We choose whether we allow our lives to be defined by them or not."
In 2012, Kyle became the first quadruple amputee to climb – actually bearcrawl – the 19,340 feet to the top of Mount Kilimanjaro without the aid of prosthetics, which earned him his second ESPY award. Four years later, he reached the summit of Argentina's Mount Aconcagua – the highest peak in both the Western and Southern Hemispheres, standing at 22,838 feet. Following that epic summit, Nike featured Kyle in the powerful commercial "Unlimited Will," which debuted globally during the 2016 Olympics, and was viewed by millions around the world.
Kyle has not let his success be defined by anything or anyone but himself. As a motivational speaker, he is on a mission to inspire others to do the same by sharing his story and living by example. He tailors his speeches to his audience and travels more than 200 days annually, across continents, speaking to hundreds of schools, conferences, and the many Fortune 100 corporations – such as Microsoft, Pfizer, Merrill Lynch, Bank of America, Wells Fargo, State Farm, Nationwide, Humana Inc., Cigna, and The Coca-Cola Company – that hire him, to share his "No Excuses" philosophy and principles.
He proudly serves as a board member and ambassador of numerous charities, which he passionately supports, including K2 Adventure Foundation, No Barriers USA, Wounded Warrior Project, the USO, the Travis Manion Foundation, the U.S. Special Forces' The Honor Foundation (THF), and the Juvenile Diabetes Research Foundation International (JDRF). Kyle also commits time and resources to work with wounded warriors and has spent some of his most memorable moments meeting with recovering U.S. military veterans at Walter Reed Medical Center, and supporting service events for Air Force Academy and Navy SEAL Qualification Trainee programs, as well as to servicemen and women at Camp Pendleton, Ft. Benning, Ft. Bragg, Ft. Leavenworth, Ft. Lewis and Ft. Myer.
He has appeared as a guest on Good Morning America, CBS The Early Show, The Oprah Winfrey Show, Larry King Live, ABC's 20/20, and his story has been featured on ESPN, CNN and HBO, as well as other countless television shows and editorials.
Kyle is the New York Times bestselling author of "No Excuses" (2005), which chronicled his life experiences, and is still in print and in demand today. He was also the focus of the moving ESPN documentary, "A Fighting Chance," (2010) which profiled his story and the pursuit of his first MMA cage fight.
In January 2016, a 3 minute video profiling Kyle's epic story and achievements debuted on CNN's Great Big Story and immediately went viral, garnering over 16 million views, and a 250 thousand shares in the first week.
---