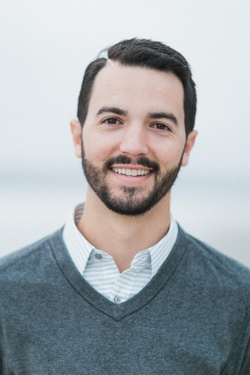 ---
Please contact a GDA agent for information.
---
Topics
Click on the topic name to see other speakers tagged with this topic.
---
Jeremy Poincenot
Featured
World Blind Golf Champion
At 19, Jeremy Poincenot was your typical college sophomore. Friends, sports, fraternity and most importantly, perfect 20/20 vision. Then it happened, no warning, no time to prepare. Life began to blur. Over the next few months, Jeremy lost central vision in his right eye, followed closely by his left. The diagnosis: a rare genetic disorder called Leber's Hereditary Optic Neuropathy (LHON), a disease that affects a mere 100 people in the U.S. each year with no treatment or cure in sight. At first, Jeremy thought losing his vision meant forfeiting his life. But he soon learned that with every challenge comes an opportunity for growth.
When Jeremy lost his central vision, he thought the game of golf he loved was over. But with some hard work, dedication, and the support of his family and friends, he quickly learned that his golfing career had just begun. At 20 years old and with his Dad as his guide, Jeremy competed in and won the 2010 World Blind Golf Championship with a dramatic chip-in in a playoff. They have since gone on to win 8 National Championships, an Australian Blind Open, an Italian Blind Open and two more World Blind Golf Championships. In 2011, Jeremy was honored as the San Diego Hall of Champions Challenged Athlete of the Year. Like all things, it's the most difficult trials that shape who we are—and Jeremy is a better athlete and person because of this sport.
Now, Jeremy strives to raise awareness of LHON, and along with the help of his friends, they have created the C.U.R.E. (Cycling Under Reduced Eyesight) Ride, an annual fundraising bike ride that has raised over $350,000 for LHON research. Their goal is to raise a million.
Today, Jeremy is an Inspirational Speaker traveling the world, sharing his story to inspire audiences to take control of life and turn trauma into triumph. Jeremy is not your ordinary motivational speaker. With a powerful personal narrative, a little wit and a strong inspirational message, he has made it his mission to help his audiences rise up to their biggest obstacles and see them as opportunities.
Jeremy's objective when he steps in front of an audience is not to dictate how to succeed in life; it's to convince individuals that independence is good, while interdependence is great. He speaks from experience and has discovered that with a focus on the good, key insights, and the determination to persist through the challenges, anything is possible.
Jeremy has had the privilege of being featured on ABC's 20/20, ESPN.com, CNN's "Great Big Story" and MTV's True Life and has spoken for many prestigious companies including Aflac, Honda, John Hancock, Kaiser Permanente, Wells Fargo and many more.
---