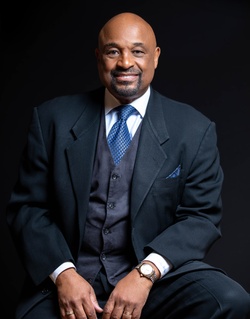 ---
Please contact a GDA agent for information.
---
Topics
Click on the topic name to see other speakers tagged with this topic.
---
Photos
Click on the image to view a high res version.
Hear Dr. Willie's
Podcast Now
Dr. Willie Jolley
Award-winning speaker and singer, best-selling author and media personality
There are many motivational speakers, and then there is the one, the only, the incomparable Dr. Willie Jolley. He truly is a renaissance man! He is a serial entrepreneur and global consultant/thought leader. He is also a Hall of Fame speaker, an award-winning singer, an international best-selling author, a popular national radio show host, and a dynamic television personality.
Dr. Willie Jolley has achieved remarkable heights in the speaking industry, having come from humble beginnings of being a fired singer who was replaced by a karaoke machine! He has gone on to be named "One of the Outstanding Five Speakers in the World" and "Motivational & Inspirational Speaker of The Year" by the 175,000 members of Toastmasters International. In 2005, he was inducted into the prestigious Speaker Hall of Fame and received the C.P.A.E. Award (Council of Peers Award of Excellence), as well as achieving the distinction of Certified Speaker Professional (CSP) by the National Speakers Association. In 2012, was a recipient of the Ron Brown Distinguished Leadership Award. In 2013, he was named "One of the Top 5 Leadership Speakers" by speaking.com. In 2018, he was named a "Legend of The Speaking Industry" by the Veterans Speakers Association.
Many know him as the expert Ford Motors called on in 2006–when they were on the brink of bankruptcy. He worked with them in 2006, 2007, 2008 and in 2009, they were able to reject a government bailout and go on to make billion-dollar profits.
Dr. Jolley started his speaking career as a drug prevention coordinator for the DC Public School System and went on to speak to millions of youth around the world and produce the first PBS Special for teens. As a result of his popularity with youth audiences, he started receiving speaking request calls from other industry sectors and went on to great success speaking to colleges, associations and corporations. In 2014, he replaced the legendary Zig Ziglar on the National Get Motivated Tour.

Dr. Jolley was the first African American President of the Washington, DC Chapter of The National Speakers Association (NSA) and was able to double memberships and revenues in one year. As a result, he went on to become the first African American elected to the National Board of NSA. He is presently the Chairman of The Speaker Hall of Fame Leadership Committee and is also the first African American to hold that position.

Dr. Willie Jolley uses his public platform to pursue his mission of empowering and encouraging people to rise above their circumstances and maximize their God-given potential! No matter the venue, from his exciting television appearances to his Sirius XM radio show–to corporate audiences like Walmart, General Motors, Comcast, Verizon, Marriott, Johnson, and Johnson Dubai, Coca-Cola US, Coca-Cola South Africa, Prudential Australia, and Prudential Malaysia or The Million Dollar Round Table–Dr. Willie Jolley keeps it moving with high energy and enthusiasm. He delivers nuggets on how every person can live a better life and win more, every day!
Dr. Willie Jolley is the author of several international best-selling books including, It Only Takes A Minute To Change Your Life, A Setback Is A Setup For A Comeback, Turn Setbacks Into Greenbacks and An Attitude of Excellence–which was endorsed by former Ford Motors CEO, Alan Mulally and Dr. Stephen Covey, author of the landmark book, The 7 Habits of Highly Effective People.
Dr. Jolley is also co-author–with his wife of 36 years, Dee Taylor-Jolley–of the popular new marriage book, Make Love, Make Money, Make It Last!
Dr. Jolley can be heard daily on the "Get Up Mornings With Erica Campbell" show on the Radio One Network and weekly on his #1-rated Willie Jolley Wealthy Ways Show on Sirius XM Channel 141.
His popular podcast, The Willie Jolley Wealthy Ways Podcast, can be heard on iHeart Radio, C-Suite Radio, Spotify, Stitcher, TuneIn, and Apple Podcasts.
Additionally, his "Live Better with Willie Jolley" daily television show has been a popular staple on many stations across America and will soon be available globally on the new Jolley Media online network. Dr. Jolley and his wife host a weekly marriage advice show called "Make Love, Make Money, Make It Last! with Dr. Willie and Dee Jolley," which airs live Monday nights at 9 pm ET on Facebook Live. All episodes can be found on HappilyMarriedMondays.com.
In addition to his corporate activities, Dr. Jolley started a non-profit organization, Jolley Good News, which focuses on helping people reduce prison recidivism and encourage youth–particularly urban youth–to pursue leadership and academic excellence. He also hosts a weekly faith-based achievement show Saturday mornings called "The Jolley Good News Report" on Facebook Live. All episodes can be found on Jolley Good News.com.
Dr. Jolley holds an earned Doctor of Ministry Degree in Faith-Driven Achievement from the California Graduate School of Theology, a Master's Degree in Theology from Wesley Theological Seminary, and a B.A. in Psychology and Sociology from American University. He resides in Washington, DC and shares his life with his wife, Dee, his two adult children and two grandchildren.
---