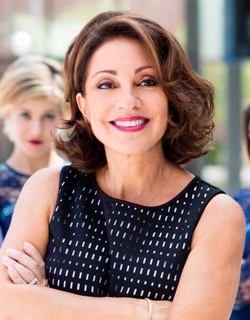 ---
Please contact a GDA agent for information.
---
Topics
Click on the topic name to see other speakers tagged with this topic.
---
Photos
Click on the image to view a high res version.
Valorie Kondos Field
UCLA Women's Gymnastics Head Coach
Select Testimonials
After meeting Miss Val, I have a new found love and passion for the sport. she develops and creates champions while putting their health and well-being first and allowing each athlete's uniqueness to flourish. She is a coach, mentor, leader, and friend who saw the potential in me before I saw it in myself and helped me grow to the person I am today.
---
Coach Val was smart enough to have been naïve enough to not know what she could not accomplish. Ballerina to championship gymnastics coach- "Will" certainly finds a way
---
Valorie Kondos Field's scope goes well beyond gymnastics. Miss Val is the life coach we all need in our corner, be it the boardroom or in the arena. I encourage all CEO's who want to tap into their fullest potential to become a student of Coach Val.
---
Date: May 15, 2018 To Whom It May Concern: I had the distinct pleasure and honor of interviewing Valorie in my role as Session Moderator as part of our Blinders Off: #MeToo, #TimesUp, and #WhatsNext panel at the Themed Entertainment Association's Summit. Valorie held a room of executives from across our industry absolutely rapt. The topic had the potential to be off-putting and scary, and indeed, she did not shy from discussing the challenging issues surrounding the current state of women's gymnastics in the US and how the organizations involved can find a healthier path forward. She did so with grace, wit, and authenticity, sharing her own moments where she, as a leader, didn't set the right cultural tone. She helped create a safe space in which our leadership one could acknowledge their own shortcomings, and see that it is not simply ok to acknowledge where we can personally do better, but that it is critical to do so. In short, she was masterful. In her thirty minutes with our attendees, she left an indelible mark, transforming how they think about winning and losing, accountability and culture. For the rest of the conference and weekend, I had attendees approach me marveling at the power of her words, and asking when her book will be available. We are so fortunate that Valorie was able to take time out of her incredibly busy schedule to be with us – indeed, she committed to our talk knowing she would then have to immediately fly out to the regional championship competitions, adding a level of complication and stress to her schedule. It speaks volumes about her passion for the subject and her commitment to true change that she made time to join us, and our industry is better for it. Cynthia Sharpe Principal, Cultural Attractions and Research Thinkwell Group 2710 Media Center Drive, Los Angeles, CA 90065 USA • T: +1 818.333.3444 • thinkwellgroup.com
---
Miss Val's not-as-you-would-expect approach to coaching has positioned her to ink 7 NCAA Championships. Her success has inspired many who have witnessed her gifts and genius as a coach, mentor and healer.
---