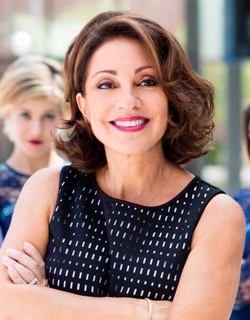 ---
Please contact a GDA agent for information.
---
Topics
Click on the topic name to see other speakers tagged with this topic.
---
Photos
Click on the image to view a high res version.
Valorie Kondos Field
UCLA Women's Gymnastics Head Coach
Valorie Kondos Field is the head coach of the UCLA Women's Gymnastics team. She has led her team to seven NCAA Championship titles and 29 Pac-12 and NCAA Regional titles. This preeminent coach was recently named the Pac-12 "Coach of the Century." In 2010, she became one of only two active coaches to be inducted into the UCLA Athletic Hall of Fame.
Valorie's coaching success is due to her extraordinary leadership and mentorship of young student-athletes. "Miss Val," as she is known, views gymnastics as an incredible avenue through which valuable life lessons can be taught. Valorie considers the late John Wooden, the legendary and most successful collegiate basketball coach of all time, as one of her inspirations, and closest mentor and friend.
Valorie began her career as a professional ballet dancer and choreographer. Although never a gymnast herself, she's transferred to her student-athletes all she learned in the world of classical dance. The result has been nearly three decades of coaching one of the premiere athletic programs in any sport.
Countless student-athletes praise Miss Val for her guidance during their athletic careers, and after they've graduated from UCLA and entered the next chapter of their lives. Included in the hundreds of athletes she has coached and influenced are Olympic champions Simone Biles, Jordan Wieber, Kyla Ross and Madison Kocian.
Valorie is also known as the nation's foremost gymnastics choreographer. Her many credits include choreographing and directing a myriad of live variety shows, including the NCAA Opening Ceremonies for Women's Basketball, a Kareem Abdul-Jabbar roast, and 26 years of cirque-type shows for Sea World's Summer Nights. Current projects include live stage shows and the development of a theatrical musical. She is also a dynamic and charismatic speaker with an extensive speaking schedule including "Corporate Coaching" to the likes of JP Morgan Chase.
Kondos Field is married to former UCLA Associate Athletic Director and football coach Bobby Field, who was inducted into the UCLA Athletics Hall of Fame in 2017. The duo are the first married Hall of Fame duo in UCLA Athletics history.
Valorie recently released a book with the title "Life is Short, Don't Wait to Dance" published by the Hachette Book Group. It expounds on her life philosophy, "Don't wait to see what life is going to hand you, take control of your life and design. Choreograph it exactly how you want it to turn out."
As a recent breast cancer survivor, Valorie's discussion of life lessons is even more impactful. The positive outlook she exhibited through 18 months of surgeries and chemotherapy resonated profoundly with her student-athletes and fans, as they were witnesses to the life-affirming outlook Valorie maintained throughout that journey. Since beating breast cancer, she now has another life motto: "Life is Short. Don't Wait to Dance.
---