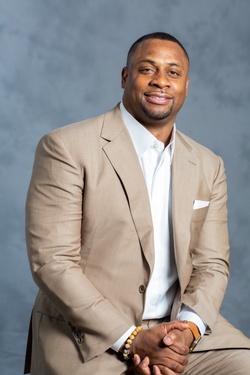 ---
Please contact a GDA agent for information.
---
Topics
Click on the topic name to see other speakers tagged with this topic.
---
Troy Vincent
Featured
NFL Executive Vice President of Football Operations; Co-Founder of A Call To Men
Troy Vincent is the Executive Vice President of Football Operations at the National Football League, beginning his football career as the 7th overall pick in the first round for the Miami Dolphins in the 1992 NFL Draft. After 15 seasons of playing in the league, Troy continues to be nominated for the Pro Football Hall of Fame and has been inducted into the Hall of Fame for the Philadelphia Eagles, the State of Pennsylvania, the University of Wisconsin and Pennsbury High School.
In his current position with the NFL, he employs the highest standards to enhance and preserve football and its value to society. His transformational and visionary leadership approach promotes using the game of football to positively impact people's lives through excellence and service by applying clarity, consistency and credibility to all aspects of football operations.
Vincent holds a broad range of responsibilities for the business of football, including game analytics, accountability, integrity of the game, development and growth, and policies and procedures relating to NFL games, including protecting players from unnecessary risk.
"It's a great blessing to have moved from serving our fans as a player to now serving them through the operations of the game. Football transcends race, age, gender and other elements of society and creates community by bringing people together across our great nation," says Vincent. "The future of football is bright because the integration of technology, technique, and rule adjustments are making our game progressively better."
As a national leader and advocate against domestic violence, sexual assault and child abuse, Troy's commitment to LEADERSHIP OVER VIOLENCE has allowed him to have a powerful voice for the voiceless. Troy demonstrates his character and desire to affect change by visiting shelters, speaking to men's groups and challenging others to lend their platforms to fight injustice.
He is the only player in history to have received the NFL Walter Payton Man of the Year award, NFL Players Association Byron Whizzer White Award, Sporting News #1 Good Guy, and NFL Athletes in Action Bart Starr Award. Vincent also received the National Jefferson Award for Public Service for extraordinary public service and making the world a better place to live.
---