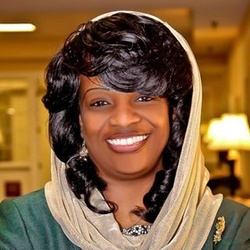 ---
Please contact a GDA agent for information.
---
Topics
Click on the topic name to see other speakers tagged with this topic.
---
Photos
Click on the image to view a high res version.
Mildred D Muhammad
Awarded Global Keynote Speaker, Consultant w/Office on Victims of Crime, Certified DV Advocate, Author
Mildred D. Muhammad is an Award-Winning, Recognized Keynote Speaker, International Expert Speaker for the US Dept of State, Certified Consultant w/Office on Victims of Crime, CNN Contributor, Domestic Abuse Survivor, Advocate, Author, Trainer & Educator traveling and speaking on a national and international platform to discuss her life of terror, abuse and heartache, all while promoting Domestic Violence Awareness and Prevention.
As the ex-wife of the D.C. sniper, John A. Muhammad, who went on a three-week rampage, with the end result, as stated by law enforcement, was to find Mildred and kill her too, the very personal details of her experiences involving fear, abuse and many of times, victim-blaming, has allowed Mildred's mission to be even more influential and of greater purpose. Simply stated, she was a victim who became a survivor and is now a warrior on the issues of domestic abuse/violence. She shares her expertise on what it's like to be a victim and a survivor of domestic violence "without physical scars" to various conferences, seminars, workshop audiences which include victims and survivors of domestic violence, advocates, law enforcement professionals, therapists, counselors, mental and medical health providers, university and college students as well as conduct military personnel training regarding domestic violence. Her authenticity is as remarkable as her unforgettable story of abuse. She explains the perils of PTSD (post traumatic stress disorder) soldiers suffer when returning from a war zone as well as victims who are diagnosed with PTSD. She has been recognized throughout military communities for championship of the Family Advocacy Program and their mission to educate, promote and end Domestic Violence in Military Communities.
After counseling herself and her children to survive victim-blaming through the midst of adversity, she transformed her tragic circumstances into an opportunity to establish ground on all forms of Domestic Violence that are often overlooked such as verbal, mental, economic, spiritual, stalking and emotional abuse. With more vocation and not only speaking of the details and the realities of Domestic Violence, Mildred makes it her mission to be a vessel of support and healing to all those affected by Domestic Abuse/Violence.

Her first critically acclaimed memoir, Scared Silent: When the One You Love Becomes the One You Fear, was published by Simon & Schuster in 2009. Muhammad has self-published two working journals, "A Survivor's Journal" & "Dare to Heal", as well as "Planning My Escape" (a comprehensive step by-step safety plan) specifically for victims and survivors to help with the emotions that others may not understand and strategically leaving an abusive relationship. Her second and last memoir, "I'm Still Standing" has been released.


She has received many awards such a Special Commendation presented by the Office on Violence Against Women, Maya Angelou "Still I Rise" Award, Shirley Chisholm Woman of Courage Award and REDBOOK Strength & Spirit HEROES Award, as well as multiple awards from the military community...just to name a few.
Mildred Muhammad has appeared in the following TV shows: Lifetime Movie Network Series, "Monster in My Family"; CNN documentary, "The Minds of the Sniper"; TruTV documentary "The DC Sniper's Wife" produced by award-winning producer, Barbara Kopple; Discovery Channel, "Who The Bleep Did I Marry"; Investigation Channel Series, "Escaped ~ The Sniper's Wife: Episode 2; MSNBC documentary, 'I Married The Beltway Sniper" and the syndicated TV show, Crime Watch Daily.
Mildred Muhammad has been interviewed on Oprah: Where Are They Now, Anderson, Ricki Lake, Katic Couric, Issues with Jane Velez Mitchell, The Mike Huckabee Show, TruTV's In Session, Larry King Live, The Tyra Banks Show, and Good Morning America, and has appeared on BET and other local and national TV interviews. She has also been interviewed by various national and international radio shows, internet radio, various national and international newspapers, and internet blogs and magazines worldwide, including the BBC, NPR, Essence, Jet, The Washington Post, and Newsweek.
---