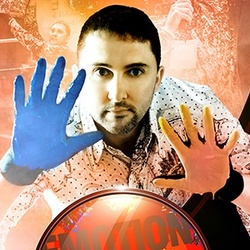 ---
Please contact a GDA agent for information.
---
Topics
Click on the topic name to see other speakers tagged with this topic.
---
Tom Varano
Inspirational Speaker/Performance Speed Painter/Entertainer
Tom Varano is from Upstate New York. Over 28 years ago, with the support of his wife, family and friends, Tom Varano opened his portrait studio as a professional photographer.
Adding to his repertoire, Tom now also uses fingertips, palms and multiple brushes to paint custom portraits and famous people on a 4 foot by 5 foot canvas in just a matter of minutes. His creations are all choreographed to loud music that is powerful and draws the audience into what is being created on the 4foot x 5foot blank canvas. Tom's, Emotion Into Art™, is described as taking his audience through an amazing journey of excitement, suspense, cheer, motivation and surprise. His ability to captivate his audience and share the experience of color, music, and action is a way to bring people into the world of art, inspiration and creativity. During the show Tom will inspire his audience with personal stories that have transformed his life. The stories he shares relate the audience between the incredible relationship of having a dream and using passion to fuel that dream. There is a simple message weaved throughout Tom's entire show: Be yourself, be creative, follow your dreams and take chances. You never know what you might discover. Whatever your passion, do it with all of your heart.
Tom recently performed in Las Vegas for Disney, Carnival Cruise Lines and MGM Resorts. Tom has also painted for over 18,000 people at Penn State's main campus, raising money for pediatric cancer.
---