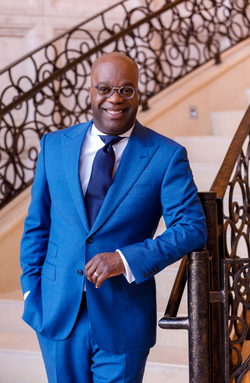 ---
Please contact a GDA agent for information.
---
Topics
Click on the topic name to see other speakers tagged with this topic.
---
Simon T. Bailey
Featured
Breakthrough Strategist, Author, Life Coach, Entrepreneur
Select Testimonials
Simon was exuberant, full of energy, and established a meaningful connection with attendees today. He shared words if wisdom for personal wellness, leading with kindness, and doing for others. This is something I strive to achieve daily as a leader in my organization.
---
Keynote called me out personally on my personal struggles balancing work and family. Knowing I needed to take care of me to be able to take care of others M.E.D.S. Is something we all forget to as we grow our families and career… stay humble and grounded. Care for others (clients, employees, and family)… we only have one life to make an impact… why wait!
---
Simon is an incredible speaker and a pleasure to work with. He researched our membership and customized his presentation in a way that really connected with our audience. Simon and his team set the standard for professional speakers and I do not hesitate in giving him my highest recommendation.
---
Simon T. Bailey – yes, yes, and yes! Truly inspirational. A fantastic choice for a guest speaker, and having a speaker that followed the conference theme and message was an added bonus. I hope you bring more guest speakers like this to future events!
---