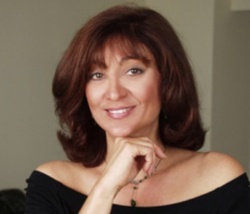 ---
Please contact a GDA agent for information.
---
Topics
Click on the topic name to see other speakers tagged with this topic.
Shari Karney
"Roar as One" Founder Social Innovator on Resilience, Change, Adversity and Triumph–Speaker for Women's Empowerment
Select Testimonials
"She is without question, one of the most charming speakers and personalities we have ever hired. "BRILLIANT, intense, thought provoking. "Even when dealing with difficult subject matter, she handles it with grace and compassion, bringing the whole room to their feet, together as one."
---
There were times during Shari's presentation when you could hear a pin drop--everyone was mesmerized by Shari's message... Shari keynoted our event and spoke to 5,000 attendees at our annual conference. Several of our State Senators in Chattanooga dropped by to hear Shari speak, as well as well as representatives from the Governor's Office. Shari's "The Gift...Turning Trauma into Triumph" and her message of determination, positive attitude, overcoming adversity resonated with each person in the room. Everyone was touched and inspired to find his or her own gift. Her storytelling was spellbinding.
---
You got the feeling that Shari was speaking from her heart, which really connected with people. She gracefully tied our mission, cause and children into her presentation---and she made very obvious her belief in our program and work, which touched everyone in the room! This was by far the BEST event we've had and Shari was in large part responsible for this outcome.
---
Shari spent several hours with children who had suffered child abuse...we quickly found out Shari is much more than a 'motivational speaker'...she is a 'life changer.' It was our honor to present to Shari our "Appeal for Love-Friend of the Child" Award. Everyone in the room was forever changed because of Shari's incomparable inspiration!
---