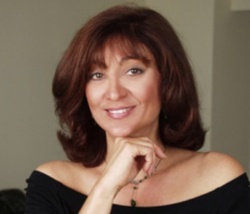 ---
Please contact a GDA agent for information.
---
Topics
Click on the topic name to see other speakers tagged with this topic.
Shari Karney
"Roar as One" Founder Social Innovator on Resilience, Change, Adversity and Triumph–Speaker for Women's Empowerment
"My desire is to always support people in attaining their highest potential, while uplifting their hearts, and fortifying the human spirit." #MeToo
Shari Karney is an inspiring motivational speaker and author. Her keynotes have riveted audiences across America with her never give up attitude. Shari found peace, purpose and happiness after overcoming extraordinary personal challenges.
There is an art to finding grace in adversity. Shari teaches women how to find their inner hero, to find their voice, to speak up, speak out, to persevere and handle the unexpected, to innovate and successfully navigate challenges. Ultimately, the goal is to learn to harness the tools needed to live with passion, focus, while, at the same time, bringing our heart and humanity to each other.
Shari knows. She has survived what most women have experienced in their lifetime. Hard times, loss of hope, disrespect, sexual harassment, sexual assault, domestic violence, child sexual assault, pain, loss, obstacles, fear, anxiety.
"When your mind tries to tell you there is no hope–there is always hope", Shari believes.
Shari specializes in helping women transform their lives to feel happier, inspired, listened to, respected and understood. You will experience profound results.
Shari teaches women the enlightening power of S.H.E. Speak. Heal. Empower--Helping Women Find their Voice. Helping women speak up. Joining all voices together in a shared experience so that every woman feels safe, heard, supported and listened to. Learning how to feel okay with saying "no." The heavy consequences when the "no" isn't heard. Finding unconditional love for yourself. Discovering that your greatest gift is hidden in the most difficult part of your past.
"I'm here, I'm with you. I'm all yours. I feel your pain, I share your heart."
Shari Karney is a top lawyer and an indefatigable force who uses her legal expertise to champion the rights of women, changing laws that give women equal rights and justice. She does so with passion and heart. Shari is a driving influence who had the courage to get laws passed and used her experience in and out of the courthouse to help pioneer landmark legislation that changed the law for survivors of sexual abuse and set the foundations for breakthrough legislation that started the movement for sexual assault justice.
Shari Karney is a Social Entrepreneur and Founder of ROAR as ONE. A Non-Profit Focusing On The Rights Of Action For Survivors Of All Forms Of Sexual Abuse
Together we will rise, organize and act against to empower survivors of rape, all sexual abuse, violence and manipulation
Rise
Organize
Act
About ROAR As One:
Founded by Attorney Shari Karney, ROAR as ONE, Inc., is a non-profit organization focusing on the rights of action for survivors of all forms of sexual abuse.
ROAR was created to restore dignity and defend the right to pursue happiness for every person who has suffered through sexual assault, rape, incest, child sexual abuse and been silenced and manipulated for the pleasure of others.
Our goal is to ensure equality under the law for survivors of sexual assault and abuse. To create a society and government to defend these rights and allow all voices to speak and be heard.
Shari is a beacon of hope by choosing to turn adversity into triumph, to find inspiration where others might only find pain, and forge a truly significant life; she is an inspiring reminder that the best is yet to come.
Her Motto…
Triumph through Change
Thrive with Grace
Feel Empowered…Change your Life.
---