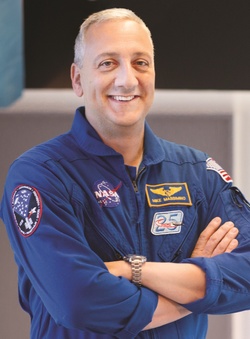 ---
Please contact a GDA agent for information.
---
Topics
Click on the topic name to see other speakers tagged with this topic.
Mike Massimino
Astronaut, Columbia Professor, Author, Media Personality
Select Testimonials
Your inspiration, passion and down to earth style was nothing short of spectacular.
---
Just wanted to take a minute and say thank you for your presentation yesterday. I have had numerous people stop me and tell me how much they loved your story – how your message really hit home with our transformation.
---
Mike was great. He did a fantastic job of engaging the audience with his stories and down-to-earth style (pardon the pun). He hit the mark on our key messages, but didn't beat people over the head with them. He integrated them seamlessly into his stories. I also appreciated that he hung around and chatted with a number of our colleagues after his remarks – even if it did nearly cause him to miss his flight. All told, he was a hit.
---
Thanks again for doing a superb job today. Really top notch. They loved you. Couldn't have asked for a better crafted talk.
---
Our leaders were inspired by your story and I believe walked away with a renewed sense of purpose and ready to focus on our new aspiration and goal. Your determination has encouraged us to think differently and be more courageous in our pursuits to impact society.
---
Your presentation was fantastic and highly rated by our audience. On behalf of USA Rice, and the more than 750 conference attendees, please accept our warmest appreciation for your contribution to the quality and success of the meeting.
---
Everyone was thrilled with the meeting, especially your presentation. I have never received so much positive feedback after one of our All Staff meetings.
---