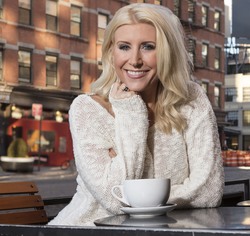 ---
Please contact a GDA agent for information.
---
Topics
Click on the topic name to see other speakers tagged with this topic.
---
Photos
Click on the image to view a high res version.
Michaela Guzy
Executive Producer, On Air Talent, Writer, Storyteller, Speaker, Travel, Sustainability, Millennial Mindset, Social Impact Advocate
Michaela is About.com's Expert in Sustainable Travel (EIC) and is the founder of OhThePeopleYouMeet, a video series and content site for travelers, foodies and philanthropists seeking authentic local connections when traveling. The OTPYM movement has over 90 global contributors to date.
Michaela oversees OTPYM's production house, which produces two original video series, Michaela's Map and OhThePeopleYouMeet. She is the Executive Producer, Director, Lead Writer and On-Air Talent for both series. Michaela has just completed her first TV special on the inspiring thought leaders she met in South Africa, which is the first in her limited series. OTPYM has several treatments in development and is working on its first Virtual Reality series.
A trusted authority on travel, Michaela speaks about Sustainable and Immersive Travel at industry conferences, such as International Luxury Travel Market, Africa Travel Association, Adventure Travel Trade Association and Social Media Week. She curates conversations on topics ranging from new media, storytelling, human connection, social impact, female entrepreneurship and The Millennial Mindset for WeWork, Soho House's IMPACT Series and has guest taught at NYU's Tisch School of Hospitality. Michaela is an advocate for The Blue Movement—connecting people to our oceans, Human Rights and Wildlife Conservation and an advocate against Human Trafficking and Wildlife Poaching. In November 2016, Michaela was selected by WeWork as one of their 40 most promising members in NYC to participate in Goldman Sachs & Babson's 10,000 Small Businesses.

Michaela contributes to and has been featured in many media outlets from BRAVO, Yahoo, Forbes, National Geographic Traveler, The Daily Meal, Travel SavvyTV, About.com, Virtuoso Life, Recommend, CTV/AP World News and Conde Nast Traveller. Michaela consults with Fortune 500 companies, including Chase, Jaguar, Preferred Hotel Group and The Robb Report.

Michaela is also proud to be the first advisor to Travel+Social Good, the Corporate Vice Chair of the Junior Committee for The New York Center for Children, serving on the Host Committee for together1heart. In 2016 she completed her third marathon on behalf of reachwithin.
Tagline/Mission Statement:
Michaela Guzy: Storytelling Beyond Borders, Fearless Beyond Reason
Michaela Guzy, a former publishing exec who is fearless beyond reason, left her career behind to begin a journey that has since changed her life and touched others. OhThePeopleYouMeet speaks to the wanderlust in us all and ignites a passion for global connections and sustainable and immersive travel, which are shaping the tourism industry worldwide now more than ever.
Michaela's Two Sheet: https://drive.google.com/file/d/0B6yH4z4vc21dWi1qTXd1Y0ZlU2VJNjI2SzE3SEhXRFFwUDVJ/view
---