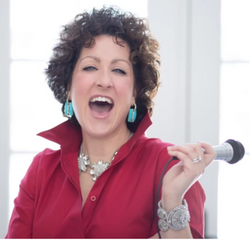 ---
Please contact a GDA agent for information.
---
Topics
Click on the topic name to see other speakers tagged with this topic.
---
Photos
Click on the image to view a high res version.
Kim Miles
TEDx Speaker, High Energy in High Heels
What do you call a successful businesswoman with a vibrant financial-advisory practice, more than 25 years of sales experience, a background in performing, and a serious shoe habit? Kim Miles! Through her company, Miles in Heels Productions, Kim is a highly sought-after emcee, TEDx speaker, panel moderator, creative collaborator and event strategist who partners with her clients to deliver critical messaging to their key audiences in fresh, unexpected and entertaining ways. From ideation to execution, Miles in Heels Productions is the answer. When you need to think outside of the box and laugh while you're learning, look no further: if Oprah and Ellen had a love-child, it would be Kim Miles.
Kim's clients include The Massachusetts Conference for Women, Babson College, Women's Bar Association of Massachusetts, League of Women Voters of Massachusetts, Foundation for Business Equity, Worcester Women's Leadership Conference, Wellesley College, Winchester Hospital/Lahey Health, Women's Bar Foundation of Massachusetts, Yankee Dental Congress, Bay Path University, Goulston & Storrs Counsellors at Law, College of The Holy Cross, MassChallenge, Women in Technology International, Colwen Hotels, Regis College, Bryant University Women's Summit, MetroWest Conference for Women and many more. She's a proud member of The WIN Lab Coaching Circle and New Voices PACE Bootcamp team at Babson College as well as the Innovation Women Speakers Bureau. With over 17 years of experience producing programs for as few as 30 people and as many as 1000, Kim makes every event feel as intimate as hanging with your closest pals over a glass of wine.
Kim's TEDx talk will be taking place on 4.10.21 at Babson College. Her talk, "I SURVIVED THE BIG C: CONFORMITY" will be addressing all the ways we've been forced to bridge the gaps and break the norms in our everyday lives, both pre and post pandemic.
A serial networker, Kim has harnessed her passion for connecting and motivating fellow entrepreneurs by co-creating "Getting Past Hello!"™, an innovative and engaging curriculum with the singular focus of cultivating lasting business relationships, and "The Second Chapter Sisterhood,"™ a networking and skill-building series for women to "mix, mingle, and mastermind" and help each other overcome barriers between themselves and their goals. In addition, Kim helps her clients reclaim their mojo through her "MOJO Masterclass" ™, her signature Confidence Coaching--because every one of us needs a cheerleader once in a while! When she's not working, Kim has been known to take off her signature heels only to hit the slopes or the golf course…that is when she's not singing with her band!
---