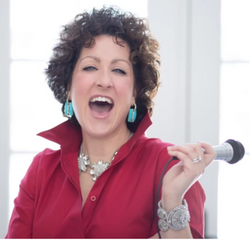 ---
Please contact a GDA agent for information.
---
Topics
Click on the topic name to see other speakers tagged with this topic.
---
Photos
Click on the image to view a high res version.
Kim Miles
TEDx Speaker, High Energy in High Heels
Select Testimonials
"College of The Holy Cross engaged Kim Miles and Miles in Heels Productions to run one of her unique, out-of-the-box ice breakers for our Women in Business Conference to kick off the event. Kim's energy and sense of humor was the secret weapon that set the tone for the whole day. She had both the students and alumni sharing stories and truly connecting. Kim has a unique ability to bring perfect strangers together who leave feeling as if they have known each other forever. Her passion for networking and connecting people ignites the room and leaves people wanting more. If your organization is looking for that 'special something' that's always been missing, Miles in Heels is the answer."
---
Kim recently emceed our event, the 'MetroWest Conference For Women'. In a word, she was outstanding! She kept the day moving smoothly from beginning to end. Kim was well prepared, engaging and was instrumental in helping us achieve a warm and welcoming experience for our attendees. Additionally, she was able to professionally handle last-minute adjustments to our program that would have otherwise been a distraction and she did it all with her signature sense of humor. We will definitely have her back again next year!
---
"Kim Miles was born to do this: bring people together in an entertaining environment, and hit them with an impactful message. She never disappoints. She makes a room full of 700 strangers feel like a party with your best friends and she manages to be outrageously funny without sacrificing the integrity of her message. Kim's talent for organizing all sorts of critical information into tightly organized and customized events is truly limitless…and they're always FUN! Goulston & Storrs hired Miles in Heels to help facilitate a panel discussion for the ALM Conference in Manhattan: a conference that caters to 200 attorneys. Kim was the key component to elevating our panel above 18 back-to-back seminars over the course of two days. Her ability to engage everyone and bridge the gap between the panelists and the audience was unparalleled. The feedback was overwhelmingly positive from conference attendees and the proof was in the rave reviews: 'The best panel of the conference!'"
---
"Kim Miles is everything you expect her to be – everything she promises to be. After one hour with Kim, I was clear on what I had to offer and how to articulate it to the world. After a few hours with Kim I knew exactly what I needed to do to make that vision a reality. Kim is like your best friend, favorite sister, toughest coach and most valuable advisor all rolled into one."
---
"The Winchester Hospital Foundation found working with Kim and Miles in Heels Productions to be an absolute pleasure. She consistently brought 100% of her energy and creativity to the table. Her ideas were original and innovative. Kim is as invested in the success of an endeavor as are her clients. She does her homework and arrives prepared and focused for meetings. She becomes an extension of your team generously sharing her perspective and recommendations as the planning for an event progresses. Best of all, she delivers! We were thrilled with her engagement of our physicians and audience!"
---
"Miles in Heels' Golden Rules for Getting Past Hello! was the absolute perfect way to kick off our Women's Leadership summer experiential experience. Kim is such a dynamic, energizing speaker that the students were absolutely glued to each of her words. It was rated as one of the most effective sessions of the week, setting a solid foundation for the remaining events. The practical materials truly resonated with this audience, and for the rest of the week, I had the privilege of watching the students put their new found networking skills to work, meeting new people, sending fabulous thank you notes, and getting way, way past hello. I can't wait to work with Kim again, she is fabulous!"
---
"Kim worked with us to re-brand and emcee our very popular annual fundraiser, she was the secret weapon to, in her words, 'zhoosh it up'. And boy, did she ever! We count on this event for 40% of our operating budget and Kim delivered in spades. Her no-holds-barred creativity, deep event planning knowledge, meticulous follow through, wide professional network and can-do attitude ensured that our 25th anniversary Comedy Night was something special. And her unparalleled emcee talents were the icing on the cake! With Kim at the helm, we were able to meet our very aggressive fundraising goal."
---