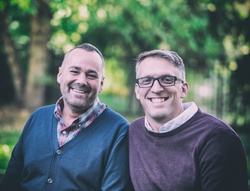 ---
Please contact a GDA agent for information.
---
Topics
Click on the topic name to see other speakers tagged with this topic.
---
Justin Skeesuck and Patrick Gray
Push Inc. Founders
Push Inc. founders, Justin Skeesuck and Patrick Gray, guide organizations and individuals toward their full potential through the power of relationships.
Life's challenges are never-ending. While they vary in frequency and intensity, they are ever present and invade the workplace just as much as they affect our personal lives. Push Inc. is founded on this fundamental truth: we are better together! No matter how big or small, difficulties are overcome because of the strength we draw from one another. No two people know this more than Justin Skeesuck and Patrick Gray.
In 2014, the two lifelong friends tackled the impossible, a 500-mile pilgrimage on the Camino de Santiago through Spain, one pushing the other in a wheelchair. While Patrick, and others, physically pushed Justin the distance, Justin pushed Patrick, mentally and emotionally, beyond fear and insecurity, into a whole new world of joy and freedom.
Their journey is a brilliant metaphor for the lives these two men have been blessed to live. Just as neither could have accomplished the 500-mile pilgrimage on their own, their successes in life are largely attributed to the way they live and have pushed one another, and the way they have allowed others to push them.
Like Justin and Patrick, everyone faces daunting or even seemingly impossible challenges. Success in the face of obstacle-ridden paths lies within the quality of our relationships, the community we surround ourselves with, and our ability to embrace the help we need.
While Justin and Patrick's story has been described as "inspirational" or "motivational", they believe inspiration and motivation simply aren't enough. Overcoming life's challenges requires acknowledging our weaknesses, inviting others into our story, and embracing the fact that we cannot do it all on our own.
Through their speaking, writing, and training, Justin and Patrick help others overcome limitations in work, relationships, and in life, by embracing vulnerability and turning to the power that exists within a community of friends, family, and co-workers.
At Push Inc., we believe no challenge is too great to overcome, but success in the face of adversity is dependent upon our willingness to let others help push us beyond the limitations we believe we possess.
---