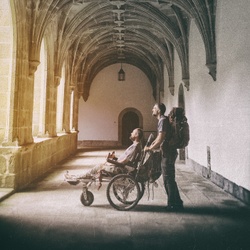 ---
Please contact a GDA agent for information.
---
Topics
Click on the topic name to see other speakers tagged with this topic.
---
Photos
Click on the image to view a high res version.
Justin Skeesuck and Patrick Gray
Featured
I'll Push You — 500 Miles, Two Best Friends, and One Wheelchair
Unlike Anything You've Seen Or Heard!
Justin Skeesuck and Patrick Gray are life-long friends with a hunger for adventure. Despite a debilitating disease taking away most of Justin's ability to move, the two live without reservation.
Their incredible wheelchair journey, known as I'll Push You, is a testament to this.
They tackled the impossible — a 500-mile pilgrimage on the Camino de Santiago through Spain — Patrick pushing Justin in a wheelchair. While Patrick, and others, physically pushed Justin the distance, Justin pushed Patrick, mentally and emotionally, beyond fear and insecurity, into a whole new world of joy and freedom. And now, they work with businesses and organizations around the globe, equipping them with the tools to do the same.
Using powerful and often hilarious storytelling, the two use their unique insights to help individuals and teams discover their full potential.
Justin and Patrick customize content for each client, but common themes include:
Leadership
Teamwork
Overcoming Challenges
Service
Inclusion Mindset
This incredible duo helps each organization they work with realize it's full potential. And, Justin and Patrick's ability to do both live and virtual events means they offer:
Live Keynotes
Live Workshops
Virtual Keynotes
Virtual Workshops
Virtual Team Coaching Sessions
While Justin and Patrick's story has been described as "inspirational" or "motivational," they believe inspiration and motivation aren't enough. Overcoming life's challenges requires acknowledging our weaknesses, inviting others into our story, and embracing the fact that we cannot do it all on our own.
Through their speaking, writing, and training, Justin and Patrick help others overcome limitations in work, relationships, and life by embracing vulnerability and turning to the power within a community of friends, family, and co-workers.
Regardless of the topic, audiences and conference attendees continually leave inspired and challenged to do more as individuals and teams. It's impossible to see Justin and Patrick speak and not be motivated to do more with what you have been given.
---