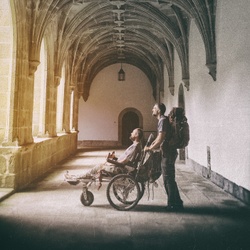 ---
Please contact a GDA agent for information.
---
Topics
Click on the topic name to see other speakers tagged with this topic.
---
Photos
Click on the image to view a high res version.
Justin Skeesuck and Patrick Gray
Featured
I'll Push You — 500 Miles, Two Best Friends, and One Wheelchair
Select Testimonials
"If you're looking for an inspirational message about friendship, commitment, overcoming challenges, or the power of community, then I urge you to hire Justin and Patrick for your next speaking event! They will deliver, your attendees will be inspired, and you will look like a genius for deciding to share with your company, members, or conference attendees a life-changing adventure."
---
We had Justin and Patrick share their I'll Push You story at our Global Sales Meeting in January of 2018. Justin and Patrick's story is one of compassion, humility and patience. Our team was completely captivated during their talk. In a room of nearly 900 people, you could hear a pin drop. Their relationship is one I admire and think back on often. One of the key takeaways that my colleagues and I still reference that Justin relayed was that ah ha moment when he realized that "When you deny someone the opportunity to help you, you deny them the joy in life!"
---
Working with Justin and Patrick is an experience of a lifetime – one never to be missed! Their inspirational story of friendship and teamwork transformed the lives of everyone in the room. From the moment I met them during our pre-conference interview, to their book signing at the conclusion of our event, they were the embodiment of what it means to be a gift to others. Their insight into the power of the human spirit and their true love of each other is infectious. On top of everything, they are two extremely kind, goodhearted, inquisitive and very humorous men – absolutely unforgettable! I don't know how anyone who has the opportunity to experience their presence, doesn't leave them wanting to be a better human in the world.
---
We loved Justin and Patrick as speakers for Nazarene Youth Conference 2019. The guys were incredible to work with leading up to, during, and after the event -- authentic, funny, and passionate. Their story and presence (both live and digital) captivated our conference attendees, challenging students and leaders with the message "to love God is to love others" in a profound way, and culminated in a standing ovation response from the audience of 9000. I highly recommend Justin and Patrick as a unique and heartfelt speaker duo whose lives match their message.
---