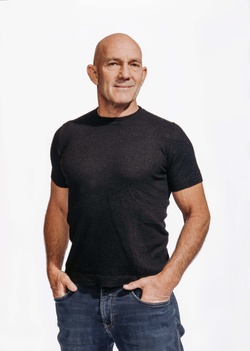 ---
Please contact a GDA agent for information.
---
Topics
Click on the topic name to see other speakers tagged with this topic.
---
John "GUCCI" Foley
Featured
Keynote Speaker to over 1500 Organizations Worldwide, Blue Angel Lead Solo Pilot, Stanford Fellow, Bestselling Author and 'Gratitude Guru'
Select Testimonials
We were extremely fortunate at Humber River Hospital to hear John Foley present this year. I had previously heard Mr. Foley delivering his practical and inspiring messages about high performance, living up to one's potential, and motivating the people around you to excel. I wanted my leadership team to hear from him as well. He certainly met all my expectations. Mr. Foley spoke about building a culture of excellence, and an environment of trust. About building a safe place where leaders, staff and physicians can own, and learn from, their mistakes. He spoke in ways that made sense to everyone about how our organization can elevate high reliability to an entirely new level. I believe everyone who heard that talk left feeling engaged, inspired and committed. I strongly recommend you create an opportunity to hear John Foley speak.
---
Dear John, I am writing today to express my sincere thanks to you for your time and presence to the Resilient YMCAs: Leaders Talks on Thursday. It was a real pleasure to have you as a speaker and your video and deep dive presentation were appreciated by the participants. Once again, thank you very much, John, we were very grateful to have your support and we look forward to our continued collaborations.
---
"It was truly inspirational. It was exactly what we needed to hear. Thanks for sharing your story and making it something that is so meaningful to people in all positions and all walks of life."
---
"Short of bringing a plane to ride in, really impressed with the message! Everyone was captivated. It really hit the mark. Fantastic. Glad to Be Here!"
---
"John, thank you very much for your awesome message to our E.J. Regional Leaders. You clearly demonstrated why you are in the top 1/10th of 1% of public speakers. You applied your Blue Angels commitment to plan & prepare for your presentation so you could specifically apply your message to our firm, our financial advisors, regional leaders, area leaders and clients. Your message, passion, energy and smile were awesome and very well received!"
---
"John's energy and presentation had us sitting on the edge of our seats for 90 minutes. His message will last far longer. I think about it every day"
---