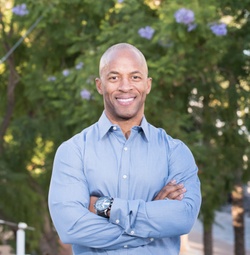 ---
Please contact a GDA agent for information.
---
Topics
Click on the topic name to see other speakers tagged with this topic.
---
JJ Birden
Former NFL Pro & Motivational Keynote Speaker
Select Testimonials
"During the COVID-19 Pandemic, our team shifted gears from our normal operations to a work-from-home setting. During this time, we wanted to place a strong emphasis on personal and professional development. With the uncertainty of the situation, we called on JJ to connect with our staff on topics of motivation, overcoming obstacles, and developing a positive mindset. JJ delivered an outstanding presentation that related directly to our current situation. Not only was he well-prepared and engaging, but his lessons were authentic and unique. Although his background is in the NFL, any business or personal setting can be compared to the messages he depicted. I cannot think of a single person or group of people that I wouldn't recommend JJ to. He radiates positivity, grit, and authenticity!"
---
"I worked with JJ to coordinate speaking on Leadership and High Performance at the IIA Phoenix Chapter meeting. He worked to prepare for our specific audience and brought an energy and focus to the room that was captivating for the duration of his message. JJ commands a great stage presence that allowed the attendees to learn and relate to his message. The sale and signing of his book, When Opportunity Knocks, 8 Surefire Ways to Take Advantage!, after was a great opportunity for folks to interact with him and gave everyone a take away to read and be inspired."
---
"I've been to 25 to 30 National Sales Meetings in my career, I've heard lots of motivational speakers and JJ Birden was by far the best National Sales Meeting speaker that I've ever seen."
---
"JJ was very easy to work with, and completely understood our ultimate objective. He connected so well with our audience he had a line for over an hour of people waiting to purchase his book, and thank him. What I appreciated the most was that he was so gracious with each attendee that came to the table to speak him."
---
"JJ spoke virtually for our Sysmex Speaker Series, he is the best motivational speaker I have heard and believed. Thank you!"
---
"JJ Birden had the group mesmerized and taking notes. The group was pretty much glazed over after 7 hours of meetings and JJ brought them right back to life. What was really great was how JJ was able to cater to the group and adjust his presentation to what the group was focused on, getting over the hump of 7 figure production."
---
"Every time he got onto the field he took advantage of the opportunity to do something special. He was meticulous in his preparation and never let his lack of NFL size stop him from finding a way to be successful. He has taken the same attention to detail, attitude and hard work that allowed him to be successful in the NFL into life after the game and is sharing the lessons that helped him succeed."
---
"JJ took the time to understand our industry and personalities of the group and speak directly to our group. His energy kicked off our conference perfectly. He was the talk of the conference!"
---
"JJ Birden was the keynote speaker at our client appreciation event and his presentation was outstanding. His message was well received by our very diverse group, which included clients and their guests from a wide age spectrum. His presentation was both energetic and entertaining. He incorporated many of his life experiences, including those as an NFL player. The feedback we received from our clients on his presentation was extremely positive. I would highly recommend JJ as a keynote speaker and presenter."
---
"JJ delivered a fast-paced, stimulating, informative and yes, motivational message to my group of community bank executives in Phoenix this past fall. The participants and their spouses were totally engaged as each one was focused on the front of the room until JJ wrapped up his session. Birden provided amazing energy, excellence, fun and most impressionable of all was how he incorporated his football experiences and related the game's strategy to business expansion and personal development. This is a tough group when it comes to motivational speakers, but they walked away smiling with ideas and tools that they could bring back to their communities and their banks. I highly recommend JJ for your next event and I look forward to engaging him for another time in the future."
---
"In these times of uncertainty, many associates are feeling a sense of chaos and stress with the unknown. Your messaging around what they can personally do everyday was uplifting and will be referenced internally for years to come, and the connection you had our associates was outstanding. Thank you for being a part of the Virtual Summer Speaker Series; you were all and more than we had hoped for to encourage, inspire and motivate the team deeply affected by COVID-19 in the hospital labs."
---
"I just had the wonderful opportunity to hear JJ's message at our company's recent National Sales Meeting. And wow, what an outstanding message it was! In fact, it was the most inspiring story I've heard during my 38 years here. His presentation captivated everyone, and he has an amazing way of connecting and it's like he's talking to everyone, one on one. JJ's message and tactics for success are simple and rooted in powerful concepts, his message will give you all the inspiration necessary to succeed both personally and professionally."
---