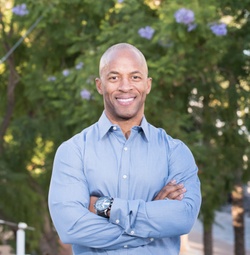 ---
Please contact a GDA agent for information.
---
Topics
Click on the topic name to see other speakers tagged with this topic.
---
JJ Birden
Former NFL Pro & Motivational Keynote Speaker
Like a fabled long-shot story and underdog tale, JJ Birden was The Small Man in the Big Man's Game of Football.
After earning a scholarship to the University of Oregon for track and field (plus being the #1 high school wide receiver in Oregon), JJ also earned a walk-on spot with the football team his sophomore year. His trials were only just beginning though, and he was faced with many naysayers, followed by a cycle of injuries, and unimpressive stats.
JJ's hard work, grit, speed, and resiliency were enough to eventually earn him the invite to the NFL Combine, where he dominated. His performance earned him an NFL draft pick, and he was on his way, or so he thought. Another series of injuries and failed physicals culminated in one of the darkest moments in JJ's early career; JJ was rejected by 4 NFL teams in 5 days.
He could have walked away from the game and given up hope in spite of what seemed like insurmountable odds, but JJ didn't even flinch. Instead, he did what he's always done when faced with adversity—he found a way to win.
Despite a height of only 5'10 and weighing in at 157 lbs (versus the typical 6'2 and 245 lbs of his peers) JJ would go on to play 9 seasons in the NFL, crushing the average player's career of less than 2 years. He is now an engaging and passionate keynote speaker, and a leading authority on helping individuals seize their opportunities in life. As a best-selling author, entrepreneur, speaker, husband and father he now shares lessons from his life that help audiences of all ages, backgrounds, and professions realize the most important thing about success—it is never given, but always earned.
---