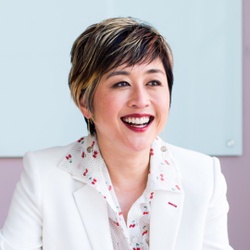 ---
Please contact a GDA agent for information.
---
Topics
Click on the topic name to see other speakers tagged with this topic.
---
Jenn Lim
Founder of Beyond Happiness & Cofounder, CEO & Chief Humanity Officer of Delivering Happiness
Select Testimonials
Jenn really connected well with the audience early, used humor effectively, and utilized an AMC personal experience in her speech. Jenn's PowerPoint presentation was terrific: highly stylized, smart, and fun."
---
Jenn was wonderful. She was engaging and educating and really just an all-around great person.  The clients were very happy."
---
Thank you for speaking at Toyota. I loved your presentation and messaging. You touched on so many topics that I know we can use immediately. You've inspired me to leave a legacy that makes a difference in my organization. You are truly an inspiration to all of us, thank you!
---
I wanted to thank you for taking the time out of your busy schedule to speak at the Patient Experience Conference at the Cleveland Clinic. You were the highest rated speaker of the event and I believe that it is a testament to your skill as a speaker, but more importantly a validation of your message!
---
Jenn – You are an absolute delight.  It was such a joy watching you hold that crowd spellbound. You have a beautiful story, a beautiful countenance, a beautiful mission – and we were very very grateful you shared it with us.  Would be fun to think with you at some point about how to get your vision more embedded in the fabric of how care is delivered in the US…we could all use more happiness."
---