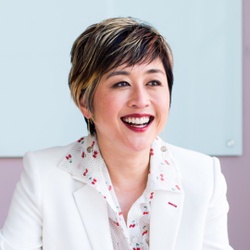 ---
Please contact a GDA agent for information.
---
Topics
Click on the topic name to see other speakers tagged with this topic.
---
Jenn Lim
Featured
CEO | Founder | Bestselling Author | Global Workplace Expert
Select Testimonials
Jenn really connected well with the audience early, used humor effectively, and utilized an AMC personal experience in her speech. Jenn's PowerPoint presentation was terrific: highly stylized, smart, and fun."
---
"Jenn Lim brought the insights, authenticity, and actionable advice that the California Conference for Women audience needed to hear this year. She challenged us all to be better leaders by embracing our humanness, our grief, and our joy. Thank you for reminding us to water our greenhouses and showing us the realness that comes beyond happiness."
---
"Jenn is highly personal and approaches problems like a friend of yours would. Jenn's willingness to make things uncomfortable is not common from consultants. Consultants are usually looking to not get fired and at best, get a change order and extend a project. Jenn is looking to provoke. There is a level of challenge inside of it that other consultants would shy away from."
---
"WE DID IT! We pulled off a meaningful program that will help our members transform their organizations in a positive way for years to come. I'm so grateful to you and the entire team for placing your trust in us and being tremendous partners in learning. You all have created an incredible ripple of impact for us as well."
---
Jenn was wonderful. She was engaging and educating and really just an all-around great person.  The clients were very happy."
---
Thank you for speaking at Toyota. I loved your presentation and messaging. You touched on so many topics that I know we can use immediately. You've inspired me to leave a legacy that makes a difference in my organization. You are truly an inspiration to all of us, thank you!
---
I wanted to thank you for taking the time out of your busy schedule to speak at the Patient Experience Conference at the Cleveland Clinic. You were the highest rated speaker of the event and I believe that it is a testament to your skill as a speaker, but more importantly a validation of your message!
---
"I had the privilege of attending the Better Works—EmpowerHR conference today, and I'm still buzzing from all of the amazing insights and connections I gained! One of my favorite moments was hearing from Jenn Lim, who gave a powerful keynote speech on the importance of creating a positive workplace culture. Jenn's talk really resonated with me, and it was so inspiring to hear about her experiences working with companies to build more engaged and fulfilled teams. Her message was a powerful reminder of the impact that professionals can have on their organizations. Feeling inspired + I can't wait to put some of these learnings into practice in my own work."
---
Jenn – You are an absolute delight.  It was such a joy watching you hold that crowd spellbound. You have a beautiful story, a beautiful countenance, a beautiful mission – and we were very very grateful you shared it with us.  Would be fun to think with you at some point about how to get your vision more embedded in the fabric of how care is delivered in the US…we could all use more happiness."
---