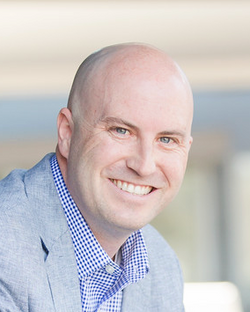 ---
Please contact a GDA agent for information.
---
Topics
Click on the topic name to see other speakers tagged with this topic.
---
Photos
Click on the image to view a high res version.
Hear Jason's
Podcast Now
Jason Barger
Featured
Author of "Thermostat Cultures" and named Top 200 Global Thought Leader
Jason Barger is committed to engaging the minds and hearts of people in order to strengthen leadership, culture, and clarity of mission, vision & values.
He is a globally celebrated Author / Speaker / Consultant and creator of the Step Back from the Baggage ClaimMovement - featured in the New York Times, National Geographic Traveler, Kiplinger, Book TV, and many other spots worldwide. His dynamic storytelling and engaging keynote speeches have resonated at global leadership conferences around the world as well as with places like IBM, Kaiser Permanente, Discover Card, Alliance Data, TEDx, the Society for Human Resource Management, Nationwide Insurance, Caribou Coffee, Deloitte, Wendy's and many more.
Prior to sleeping in airports and observing human behavior, Barger led over 1700 people to construct 125 houses internationally for families living in poverty as well as implemented the Streets Mission Project to serve the homeless on the streets of Columbus, Ohio. As the former Director of First Community Church's Camp Akita, he designed leadership programming focused on living with joy, love, compassion, faith, and service for over 1900 campers a summer.
Jason is a graduate of Denison University, where he served as Captain of the men's basketball team, and also received certification from Georgetown University in Nonprofit Executive Management. In 2004, he was one of five people in Columbus, Ohio to receive a Jefferson Award, a national award given to "Ordinary People Doing Extraordinary Things". In 2014, he was selected as a "40 Under 40" award winner by Business First. In 2021, Jason was recognized as a "Top 200 Global Thought Leader to follow" by PeopleHum.
Jason is a sought-after Keynote Speaker, visionary, and leadership consultant. As founder of Step Back Leadership Consulting LLC, he works with organizations that are passionate about Culture Change, Leadership Development, Innovation, Service, and bringing their Mission to life every day.
Barger delivers over 70 speeches annually around the world and is passionate about positive change in people, leaders, organizations, and our world!
ABOUT HIS BOOKS: Jason's next book "Breathing Oxygen: how positive leadership gives life to winning cultures" will be released August 2, 2022. His 2016 book "Thermostat Cultures" has been a bestseller! His book "ReMember: renewing our memberships, relationships and focus in a distracting world" sold out within days on Amazon. Other editions of Step Back from the Baggage Claim include the Business Leader Edition with Howard Behar, former President of Starbucks Coffee. The Healthcare Leader Edition with Dr. Chip Souba, Dean of the Dartmouth Medical School. And with Christian Long, Global Educational Consultant, the Education Edition. Join the Movement.
Follow on social media @JasonVBarger or check out his podcast ,The Thermostat with Jason Barger!
---