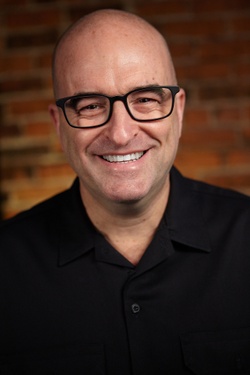 ---
Please contact a GDA agent for information.
---
Topics
Click on the topic name to see other speakers tagged with this topic.
---
Greg Bennick
Featured
Build a Better Now™ - keynote speaker, emcee, host
Greg thinks about why we do what we do. He shares how to move into a better future when we build a better now™.
His keynotes are interactive and engaging. He offers creative solutions for world changers, and he has fun while doing it.
"A fantastic presentation…the agents loved all your takeaways!"
- Windermere Real Estate (50th Anniversary Conference, October 2022)
Greg's shares new angles on team building, managing conflict, leadership, and effective communication. He examines how our self-doubt, fear of failure, and our approach to challenges either enhances or inhibits us.
Based in Seattle, he's been flown everywhere from Syracuse to Singapore to share his unique brand of engaging ideas, and potent spoken word.
Your group needs a feeling of connection and a speaker who understands them.

Explore one of Greg's acclaimed topics, or have a custom presentation created for you around your event's theme. The core central concept is "Build a Better Now"™ and all ideas stem from there. Recent examples include "The Power of One / The Power of the Team" and "Pivot to Win It: How to Manage Change".
"We've worked with many speakers and entertainers, but never before has someone taken the time and energy you did to get to know our niche industry. It was so well-received - I've been fielding texts from members all evening. It was exactly what our audience needed."
- Karen Ladany, NAAGL
Note: The ratio of ideas to entertainment in any of Greg's keynotes is entirely customizable. Inquire to find out more about Greg's customization process.
---