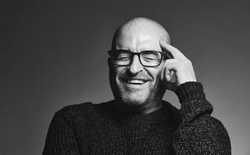 Photo by Steve Korn, Seattle WA
---
Please contact a GDA agent for information.
---
Topics
Click on the topic name to see other speakers tagged with this topic.
---
Greg Bennick
Featured
Build a Better Now® - keynote speaker, emcee, host
Select Videos
Greg Bennick has spent over thirty years exploring human connection and making audiences laugh while inspiring people across more than twenty-five countries. If you want to build a better future, build a better now™. This keynote is about FOCUS. It explores the importance of key things we can dial in so that we all achieve our goals. Think down-to-earth and fun, inspirational, motivational, and all that without being cheesy and ridiculous: BUILD A BETTER NOW™

Greg Bennick develops community and creativity through comedy. Audiences worldwide LOVE what he has to say and especially how he says it. If you watch one video, this is it!

Keynote speaker and award-winning film producer, Greg Bennick at TEDx Puget Sound (www.ted.com) delivering a profound 10-min talk on becoming an artist of the human condition.