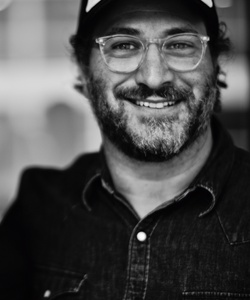 ---
Please contact a GDA agent for information.
---
Topics
Click on the topic name to see other speakers tagged with this topic.
---
Hear Elliot V.'s
Podcast Now
Elliot Kotek
Featured
CEO & Founder - The Nation of Artists
A leader in Innovation & Inspiration, Elliot Kotek is the founder & CEO of The Nation of Artists, founded Beyond Cinema and co-founded Not Impossible and the Not Impossible Foundation. His work has generated more then 7 billion media impressions and been honored with more than 50 international awards, including 5 Cannes Lions, 4 SxSW Innovation Awards, 2 Clios, 4 One Show Pencils, AICP Best in Show honors, Webby honors, Fast Company's World Changing Ideas honors and an Emmy. He is guided by the north star that IDEAS + EMPATHY = IMPACT.
Elliot's work includes projects that resulted in:
- the world's first user-generated feature film;
- a social robot duck for kids going through chemotherapy;
- the world's first 3D printing prosthetics lab;
- a "Brainwriter" device that ALS patients can use to play a video games using eye movements and brain waves;
- a communication device to enable a locked-in patient to independently tell his wife he loves her;
- delivering a phone-based eye examination kit to rural areas in Central America where it cured a grandmother's eyesight and enabled her to see her grandchildren for the first time;
- the delivery of mobile-communication innovations to indigenous communities in India, Colombia and The Philippines; and
- a global platform called "ForTomorrow" where grassroots innovators can share their ideas and be connected by the United Nations Development Programme's Accelerator Labs to mentors and other innovation communities
A perennially curious "student," Elliot has formally trained and studied at five leading academic institutions - Northwestern University's Kellogg School awarded Elliot its Innovation Fellowship and Australia's Monash University named Elliot their Alumni of the Year, and he's received additional accolades from the US Congress, US House of Representatives, California Senate and other legislative bodies. His curiosity has also put him in the hot seat from where he's interviewed 1000 of the world's most recognizable people, ranging from Elmo to Elon Musk.
Known for his new take on the "4Ps" (Passion. Purpose. People & Possibility); his low cost purpose principle titled "Idle Worshipping," and his "Earnestness Equation" for choosing clients, Elliot has produced content and campaigns for 2 of the world's biggest consulting firms, as well as the likes of Amgen, CNBC, HP, Hyundai, Intel, LEGO, NBC's PeacockTV, Netflix, New Balance, Participant Media, the Sundance Film Festival, Qualcomm and Whirlpool.
---