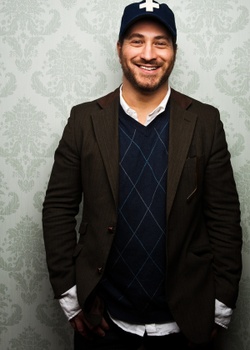 ---
Please contact a GDA agent for information.
---
Topics
Click on the topic name to see other speakers tagged with this topic.
Hear Elliot's
Podcast Now
Elliot Kotek
Content Chief & Co-Founder of Not Impossible, Executive Director - The Not Impossible Foundation
Elliot Kotek is the founder & CEO of The Nation of Artists and Beyond Cinema, co-founded Not Impossible, is on the board of HealthEffect and often speaks on the subjects of innovation and collaboration. Guided by the north star that ideas + empathy = impact, Elliot's storytelling is synonymous with innovation and inspiration. An unprecedented four-time winner and one-time host of SxSW's Innovation Awards, he's also a former Innovation Fellow at the Kellogg School of Management at Northwestern University and co-founded a company ranked on Fast Company's "Most Innovative" list.
Known for his new take on the "4Ps," his low cost purpose principle known as "Idle Worshipping" and his "Earnestness Equation" for choosing clients, his campaigns (documentaries, docu-series and virtual reality films) for Accenture, Aflac, California Almonds, HP, Hyundai, Intel, LEGO, New Balance, Participant Media & Qualcomm have blasted to over 6 billion media impressions and have given life to the world's first 3D printed prosthetics lab for the kids of Sudan, a social robot for kids going through chemotherapy and the world's first user-generated feature film.
Though Elliot's work has taken him to the frontlines of where technology is positively impacting humanity in never seen before ways, and is creating measurable impact in meaningful ways, it has also kept traditional marketing people in the 'win' column, netting a whopping 5 Cannes Lions (including the Titanium), 2 Clios, 18 Tellys, 5 Communicator Awards, 3 Maggies, 4 One Show Pencils, 2 AICP awards, archiving at the Museum of Modern Art, Webby honors and recognition from the US Congress, US House of Representatives, the California Senate and other legislative bodies. Elliot has also been fortunate to have gained insights from interviewing 1000 of the world's leading minds, from Elon Musk, Ethel Kennedy, Anita Hill and Dr. Muhammad Yunus to Stan Lee, Daniel Day Lewis & Elmo.
---