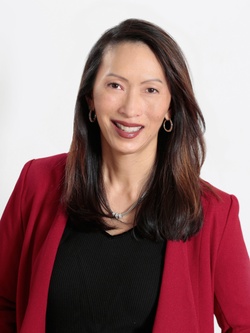 Jeni Fong/Grace Photography
---
Please contact a GDA agent for information.
---
Topics
Click on the topic name to see other speakers tagged with this topic.
---
Hear Denise Lee's
Podcast Now
Denise Lee Yohn
Brand Leadership Expert
Select Testimonials
Denise was a fantastic opening keynote speaker for the Transformational CMO Assembly this past June. This Assembly is one of our most prestigious events of the year and we are always in need of an innovative speaker to start things off on the right foot. Denise's presentation skills, warm personality, and industry knowledge were all well received and I hope to continue working with her for more of our programs in the future as numerous clients of ours took a lot away from getting to know her and listening to her speak.
---
Our attendees, who are owners of fast casual restaurants, learned a lot about social marketing from Denise. She's a dynamic and engaging speaker and really tailored her presentations to our audience. Attendees left fired up!
---
We recently had Denise speak for a series of three events. She was nothing short of amazing in front of a very passionate and outspoken audience. She did a fabulous job and really was able to relate it to the attendees and their industry. Our client sincerely appreciated her being well versed in the industry she was speaking to. Because of this she got some hard questions and didn't shy away from them. She was an absolute pleasure to work with and we really enjoyed getting to know her. She was fabulous!
---
Denise's keynote took our customer summit to new heights. She did her research, hit all of the points we'd discussed, and used provocative insights and examples. Her talk was inspiring and informative –worth every penny!
---
Best speaker of the day...a fresh perspective
---
We wanted someone who could stretch our thinking. The attendees were blown away by her presentation. We were very pleased with the depth of her experience and her ability to easily communicate that to a broad audience base.
---
Wonderful presentation and a great success! Our members were greatly impressed with the quality of your content. Denise shared a perspective we usually don't hear but desperately need to.
---
You definitely made an impact…your talk provided us with a framework as to how to operationalize [our] brand to achieve our Billion Dollar vision.
---