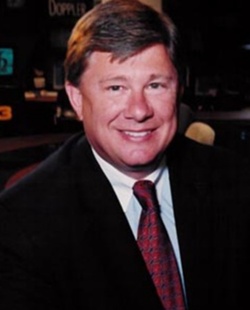 ---
Please contact a GDA agent for information.
---
Topics
Click on the topic name to see other speakers tagged with this topic.
Bob Losure
Former Anchor - CNN Headline News, Emcee and Host, Cancer Survivor
Bob Losure is a CNN Headline News anchor and author of Five Seconds to Air: Broadcast Journalism Behind The Scenes. Losure shares his life story with great fun and panache as he chronicles his roots in Tulsa, Oklahoma, and his journey to Atlanta to anchor at CNN Headline News, a position he held for eleven years. He brings us face-to-face with some of the stories and events that have shaped our lives. On a more serious note, Losure shares a very personal battle with cancer and his subsequent chemotherapy including remembrances of his boss, Ted Turner, and the great CBS anchor with whom he did a one-hour interview, Walter Cronkite.
Bob has overcame huge obstacles, enduring three operations and three rounds of chemotherapy, to fly to Atlanta to audition for the news anchor slot and get the job he coveted during the early days of CNN.
Bob focuses on how we can change our lives be overcoming fear and adversity to lead to what we truly want both in our home life and in our careers. His keynote on "Conquering Cancer Is Just The Beginning" tells his testicular cancer survival story and how it actually led him to leave Tulsa, Oklahoma and rise to the level of network anchor in Atlanta.
Mr. Losure's moderating and emcee skills are also highly regarded by major associations and corporations, including OfficeMax, RadioShack, Mercedes-Benz, and the Outdoor Advertising Association of America. His guests on-stage have included Forbes Magazine's Steve Forbes, CBS anchorman Walter Cronkite, inspirational speaker and artist Erik Wahl, and ABC Television's Shark Tank entrepreneur Barbara Corcoran.
Bob attended the University of Oklahoma and the Gaylord School of Journalism and Mass Communication, and has been inducted into the Communications Hall of Fame at his alma mater, The University of Tulsa. He's been awarded his fraternity's highest national alumni honor, The Order of West Range—given to only one other national journalist—former ABC broadcaster Ted Koppel.
---