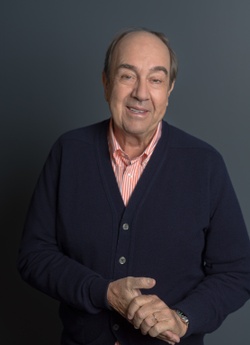 ---
Please contact a GDA agent for information.
---
Topics
Click on the topic name to see other speakers tagged with this topic.
---
Hear Nando's
Podcast Now
Nando Parrado
Featured
Survivor & Hero of Uruguayan Air Force Flight 571; NYT Best-Selling Author; Inspiration for "Alive"; Story Portrayed in Netflix Film "Society of the Snow"
Nando Parrado is the hero of the 1972 Uruguayan Air Force Flight 571 rescue. Parrado's story has been referred to as the greatest survival story of all time as he recounts the extraordinary tale of how he and 15 of his teammates survived for 72 brutal days after their plane crashed into the frozen Andes Mountains over 50 years ago.
In honor of the 50th anniversary of the rugby team's rescue, Netflix has now announced the 2024 release of the new film, Society of the Snow. Spearheaded by J.A. Bayona, director of the Oscar-nominated film The Impossible.
For over three decades, Parrado has moved global audiences through sharing his story of survival, resilience, and determination in the Andes. While it is almost certain no one has experienced surviving a plane crash at cruising altitude, Parrado believes every listener can strongly relate as we all have our own Andes to conquer.
Nando Parrado began to speak about his experiences in the Andes when he was invited to address the Young Presidents' Organization in 1992. After speaking to several multinational companies, he transformed into one of the most unique speakers in the world. He is uniquely qualified for international audiences having spoken worldwide and being fluent in five languages─English, Spanish, Italian, Portuguese, and French.
As a sportsman, speaker, and president of several companies, Parrado uses his survival story to articulate innovative strategies for those that need to scale personal or business mountains in the twenty-first century.
His timeless takeaways from his experience have resonated with global audiences on a new level through the difficulties COVID-19 has presented to the world as we know it. Parrado's virtual and in-person formats provide a front row seat to his message of overcoming obstacles, how to face severe isolation, and maintain hope.
His story has continued to remain in the limelight - first being told in Pier Paul Read's 1973 publication of Alive: The Story of the Andes Survivors. In 1993, Ethan Hawke portrayed Parrado in the movie Alive. Parrado soon debuted as #10 on The New York Times bestseller list as a first time author with Miracle in the Andes in 2006. The riveting story was retold in The History Channel documentary I Am Alive: Surviving the Andes Plane Crash in 2010.
Nando and his family reside in Uruguay where he is enjoying early retirement after a successful career in television and entrepreneurship running real estate developments, an ad agency, and a chain of hardware stores. He is now focusing on family and his many hobbies which include boating, historic race cars, and travel. Parrado is currently serving as an advisor to the upcoming Netflix film and continues to speak both in-person and virtually to audiences across the globe.
---