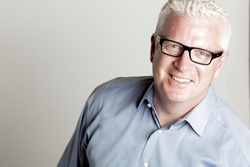 ---
Please contact a GDA agent for information.
---
Topics
Click on the topic name to see other speakers tagged with this topic.
---
Photos
Click on the image to view a high res version.
Hear Vince's
Podcast Now
Vince Poscente
Featured
Breakthrough Presentations, Olympian, NY Times Bestselling Author
Vince Poscente, one of the most in-demand presenters today, is an expert on set-backs to breakthroughs, resiliency—the ability to overcome challenges and bounce back even stronger than ever before. His client list includes top organizations with one thing in common: they understand that success is not just about reaching your goals and getting what you want. There also has to be an intent to handle set-backs and overcome obstacles and end of smarter, stronger, and more focused than ever before, Vince knows first-hand the power that attitude, determination, and innovation play in your future success--especially when life doesn't go as planned.
Vince has two signature presentations where the first half of his life he went downhill. The second half he goes up. First, Full Speed Ahead reveals the formula for big goals in short order with his story of recreational skier to Olympics in just four short years. Second, Accelerate Breakthroughs outlines the qualities necessary to reach new heights from any valley you find yourself in. By using the backdrop of ten years of leading Heroes Climb expeditions in the Himalayas Vince shares the Solutions Loop to overcome any chaos that may be occurring in the lives of his audience members. In both cases, audiences experience the way to bounce back and find another path. Another solution. Another way to achieve extraordinary outcomes. Vince is a New York Times Best Selling author. Hall of Fame Speaker in the USA and Canada. Award-winning business owner. Expedition leader.
So, what are your teams' obstacles? The economy? Competition? Negative attitudes? Lower productivity? And the list goes on.
Vince is the #1 go-to guy for taking a team and teaching them how to lead better. Produce more. Sell more. And move past the obstacles and into a mental space that creates the kind of success you and your team want and deserve.
This is NOT Vince just telling his story. Because everybody has a story. This is about Vince sharing strategies and solutions that will definitely change how your team handles crises. Problems. Competition. And change. Without understanding resiliency and the absolute importance it plays on everything and everyone—your team will not have the skills they need to overcome the things that will inevitably stand in their way.
Vince Poscente is a Certified Virtual Presenter and delivers his inspiring message either in person, online, or with hybrid events.
---