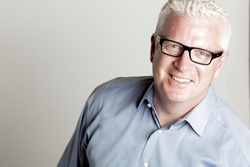 ---
Please contact a GDA agent for information.
---
Topics
Click on the topic name to see other speakers tagged with this topic.
---
Photos
Click on the image to view a high res version.
Hear Vince's
Podcast Now
Vince Poscente
Featured
Breakthrough Presentations, Olympian, NY Times Bestselling Author
Select Testimonials
I just need to tell you how fabulous Vince was! OMG, he had 360 people, traditionally hard to move, on their feet several times! He was funny, engaging, emotionally charged and delivered a great message. Reviews have been phenomenal! Thank you!
---
Vince was tremendous. He delivered an energetic yet focused presentation that spoke to every person in the room - as evidenced by the long line of those wanting their picture with him after. Our attendees were raving about Vince a week following his presentation. Thanks, Vince - you made us look GREAT!
---
Thanks Vince! You were truly spectacular at our sales meeting and everyone still talks about your presentation/message. Everyone left the conference motivated and excited about our company and very focused on a successful future. You certainly played a key part in making it happen!
---
Vince's concepts and vision are a must for today's complex world.
---
The ant has to train the elephant to let him know, you are the biggest, baddest thing out here. I took a lot from that. (referring to Vince Poscente's book The Ant and the Elephant)
---
I've coordinated hundreds of meetings. Vince was a breath of fresh air!
---
Vince will help you seek out speed and celebrate it as your most powerful tool in the global race for a better business...
---
Put Vince's lessons into action and reap the rewards.
---
Eight years ago I wrote, "I knew you would be the home run I had been searching for. I was impressed with your pre-conference preparation and the time you obviously invested in understanding our organization and the unique characteristics of our needs." Still, eight years after his powerful keynote, his winning tools stick with our franchisees today.
---