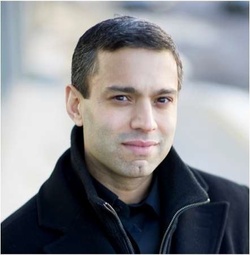 ---
Please contact a GDA agent for information.
---
Topics
Click on the topic name to see other speakers tagged with this topic.
---
Photos
Click on the image to view a high res version.
Vikram Mansharamani
Featured
Global Trend-Watcher, Harvard University Lecturer, and Author of Boombustology: Spotting Bubbles Before They Burst
Select Testimonials
"Vikram was fantastic. He's such a nice man. Really personable and genuine. Our conference attendees loved his presentation – and I mean loved! I suspect that he will be the highest rated speaker at this event. I will share the results of our conference evaluation with you when it is ready."
---
"Vikram energetically presents his arguments in a way that engages sophisticated institutional investors in a dialogue that expands how they think about investing now and in the future."
---
"He hit it out of the park! Enthusiastic responses from everyone. Could not be happier."
---
"Vikram gives a dynamic presentation that pulls disparate trends together to make compelling and thought-provoking arguments about future outcomes and investment opportunities."
---
"Vikram, I would like to share with the news that we are still receiving the best reviews from many attendees in regards of your conference, among them, one of the most prominent economists of Colombia. Your presentation was certainly a success and we will surely want to see you in Colombia on upcoming opportunities"
---
"You were a great addition to our program - wonderful content and presentation. I really enjoyed your talk."
---