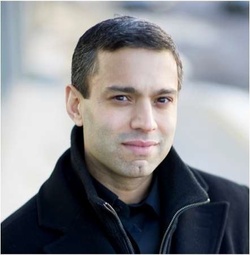 ---
Please contact a GDA agent for information.
---
Topics
Click on the topic name to see other speakers tagged with this topic.
---
Photos
Click on the image to view a high res version.
Vikram Mansharamani
Featured
Global Trend-Watcher, Harvard University Lecturer, and Author of Boombustology: Spotting Bubbles Before They Burst
Vikram Mansharamani is a global trend-watcher who shows people how to anticipate the future, manage risk, and spot opportunities. He is an academic, advisor, and author as well as a frequently sought-after speaker. Vikram adopts a uniquely global approach to his work, having worked on every continent other than Antarctica (it's on his to-do list).
He has been a regular commentator on issues driving disruption in the global business environment. His ideas and writings have also appeared in a long list of publications and he's been honored by LinkedIn as one of their Top Voices and Worth Magazine as one of the 100 Most Powerful People in Global Finance. Millions of readers have enjoyed his unique multi-lens approach to connecting seemingly irrelevant dots.
As an advisor, Vikram assists numerous boards and c-suites navigate today's overwhelming uncertainty. He helps his clients analyze the business impact of global trends, with an emphasis on economic, political, and social risks that might generate instability. His thematic analysis and risk management is always focused on identifying opportunities within the risks.
Vikram is the author of Think For Yourself: Restoring Common Sense in an Age of Experts and Artificial Intelligence (HBR Press, 2020) and Boombustology: Spotting Financial Bubbles Before They Burst (Wiley, 2011, 2019). He is currently a lecturer at Harvard University, where he teaches students how to make tough decisions by using multiple perspectives and systems thinking to guide their processes. Vikram has a PhD and two Masters degrees from MIT and a Bachelors degree from Yale University, where he was elected to Phi Beta Kappa. He lives in New Hamshire with his wife, son, daughter, golden retriever, and two cats, one of which he believes is clairvoyant.
---