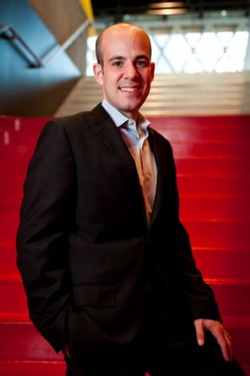 ---
Please contact a GDA agent for information.
---
Topics
Click on the topic name to see other speakers tagged with this topic.
---
Scott Steinberg
Business Strategist, Innovation + Trend Expert, Technology Futurist
Recently named "Master of Innovation" by Chase Bank and Fortune magazine, bestselling leadership and innovation speaker Scott Steinberg is one of the world's most celebrated business speakers, futurists, and strategic innovation consultants, as seen in 600+ outlets from CNN to TIME and The Wall St. Journal. The author of Make Change Work for You: 10 Ways to Future-Proof Yourself, Fearlessly Innovate and Succeed Despite Uncertainty and Millennial Marketing: Bridging the Generation Gap, the Fortune 500 calls him a "defining figure in business and technology" and "top trendsetter to follow." As the CEO of management consulting and market research firm FutureProof Strategies, he helps clients of all sizes better understand emerging innovations and trends, and cultivate competitive advantage on the back of them. An award-winning provider of keynote speeches, workshops and seminars for Fortune 500 businesses, non-profits, associations and educational institutes, he's partnered with many leading organizations to deliver game-changing leadership, education, and change management programs. Sample areas of expertise include leadership, marketing, management, communications, sales, customer service, social media, finance, advertising, PR, teamwork, healthcare, youth speaking and more.

Among today's most-quoted keynote speakers, trends experts and technology analysts, as seen by over one billion people worldwide, Scott's 10+ year track record for accurately predicting business, consumer and technology trends has made him a fixture in mainstream media. Today's #1-ranked technology expert according to Google, he's consulted on dozens of market-leading products and services, and authored nine books including international best sellers The Crowdfunding Bible and The Modern Parent's Guide, and the critically-acclaimed Business Expert's Guidebook. Partners include the globe's largest businesses, brands, book/eBook/webinar/video providers, media companies, airlines and more. His motivational speeches, leadership seminars and training workshops show executives and educators how to become more effective – and make both they and their businesses indispensable in an increasingly disposable world.

As an industry consultant, Steinberg has helped top corporations from Microsoft, Sony and Intel to ESPN and MTV adapt to changing consumer, high-tech and social trends. Hailed as a top trends expert and futurist by leading media outlets including NPR, Newsweek, TIME, BusinessWeek and The Wall St. Journal, his advisory work enables clients to identify emerging cultural and technological forces and create powerful business strategies that meet changing market needs. A nationally-syndicated columnist who routinely explores topics including change, and connecting generations, he's also the creator and host of Gear Up, Rolling Stone's first dedicated blog and video series devoted to consumer technology. A regular guest on ABC, CBS, FOX and NBC, he serves as a featured expert for Fast Company, Inc., Entrepreneur, The Huffington Post and more.
---