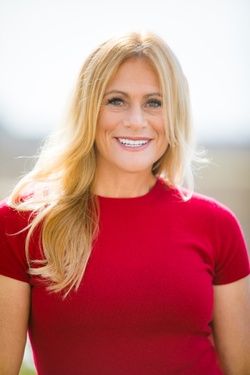 ---
Please contact a GDA agent for information.
---
Topics
Click on the topic name to see other speakers tagged with this topic.
---
Photos
Click on the image to view a high res version.
Hear Robyn's
Podcast Now
Robyn Benincasa
Featured
Leadership and Teamwork Motivational Speaker, Full-time Firefighter, Adventure Racing World Champion
Select Testimonials
"Robyn, you were amazing! You are a "rock star"! I really appreciate you being at our meeting. Your powerful presentation and message aligned perfectly with what I wanted to accomplish and you knocked it out of the ball park! I can't tell you how many people have come up to me and sent me notes on how great they thought your presentation was. I want to sincerely thank you for traveling here and being such a big part of our meeting. I could not have been happier!"
---
"One word, PHENOMENAL! Robyn had the audience's attention from the moment she stepped out on stage. The Adventure Racing stories she shared were not short of incredible and showed the epitome of TEAMWORK. I have no doubt that every single person at the conference walked away with a new perspective and appreciation of what TEAM really means. You rocked it!!"
---
"Robyn, I had the pleasure of hearing you speak today at Microsoft and I have to tell you how you left me inspired and with a renewed faith in a different way to think about teamwork. I have always valued working in a team but you gave me some great insights into new ways of thinking and while I cannot say I have ever been an Adventure Racer – in fact, I couldn't be further from it….today I left feeling as though I AM an adventure racer each and every day in my role."
---
"MORE THAN PERFECT…AMAZING…MESSAGE ON TARGET FOR US AND FUN…SO MANY OF OUR ATTENDEES TOLD ME SHE WAS THE BEST KEYNOTE WE'VE EVER HAD!"
---
"Your session hit on all marks – energy, entertainment and information! This is what the attendees had to say: 'Inspiring!' 'Great speaker to kick things off and set the tone for the rest of the conference!' 'Great learning experience!' The IAMC audience tends to go to a lot of events each year, and they hear a lot of speakers. So, they can be a tough crowd to please. You and your presentation were unequivocal hits."
---
"Thanks for joining us in Atlanta for our global management meeting. Your presentation was excellent and very inspiring. I heard from many of our people telling me how much they enjoyed your presentation and how quickly the time went by. Many said you were the best keynote speaker that we have had over the 18 years that we have been in existence."
---
"Robyn was a HUGE hit as our virtual keynote speaker. The comments that came through in the chat were AMAZING. Our industry is hurting so badly and everyone was so inspired by Robyn. My president just sent me an email saying Robyn was one of the best if not the best keynote we have ever had!"
---