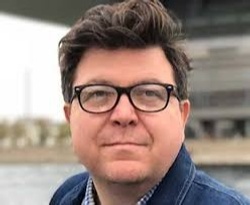 ---
Please contact a GDA agent for information.
---
Topics
Click on the topic name to see other speakers tagged with this topic.
Ricardo Baca
The Denver Post's first-ever marijuana editor and founder of news vertical The Cannabist
Select Testimonials
"The legalization of cannabis, and the modern drug policy reform movement in general, is sweeping the globe like wildfire - and as the Learning Officer of YPO Kansas-I, I think it's critical that our members understand this ever-shifting landscape - even in our state, where the laws are not as progressive as they are in most other parts of the country. By hiring a veteran journalist like Ricardo to speak with our group, I knew we would benefit from his clear-headed approach to this complex subject matter, and I also knew that he would only bring relevant, science-based and vetted information to our conversation. Our members appreciated his authoritative grasp on the subject, his entertaining delivery and his personalized and localized presentation, which presented this national and even international conversation from a local-to-us, Kansas-rooted perspective that made everything relevant to our YPO members. While we knew we were pushing boundaries with the subject matter, we were thankful to see how our members responded to Ricardo's presentation, including an overall event rating of 9.35 and a resource rating of 9.55. Some of our member comments included, 'Ricardo was a true expert. Top in his field.' and 'Fun, clever, informative, creative, timely!' To boot, while Ricardo's presentation was meant to be in person, the pandemic had other plans. When we realized an in-person gathering would be impossible, Ricardo worked hand-in-hand with my team to ideate a more interactive virtual gathering - complete with a DJ, drinks and a cannabis-themed goodie box my team and I created and dropped off at all participants' doors - that also scored member kudos, including, 'Best virtual experience I've had during this period.' Ricardo is a clear communicator, a real professional, a true collaborator and an expert on all things cannabis legalization and drug policy, and we could tell that it was immensely important to him that he fully cater his presentation to my colleagues and I in our specific corner of the world, which was very much appreciated."
---