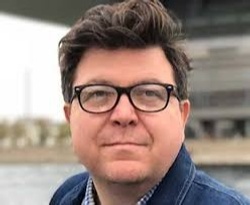 ---
Please contact a GDA agent for information.
---
Topics
Click on the topic name to see other speakers tagged with this topic.
Ricardo Baca
The Denver Post's first-ever marijuana editor and founder of news vertical The Cannabist
Named one of Fortune magazine's 7 Most Powerful People in America's Marijuana Industry, Ricardo Baca is a 20-year veteran journalist, Clio Awards juror, keynote speaker, two-time TEDx veteran, Marketer of the Year and drug policy futurist. He served as The Denver Post's first-ever marijuana editor and founded news vertical The Cannabist, where he extensively covered the advent of adult-use cannabis and related issues across the country and around the world, as seen in the feature documentary Rolling Papers (Netflix).

In 2016, Ricardo launched Grasslands: A Journalism-Minded Agency to work directly with business leaders in highly regulated industries, including cannabis, real estate and traditional healthcare. Named Marketer of the Year by AdCann in 2019, Ricardo has received numerous accolades for his trailblazing work throughout the media paradigm, and continues to columnize and host podcasts for a number of top publications.

In August 2020, Grasslands was awarded the Denver Business Journal 2020 Small Business Award, and Ricardo was named to the Rolling Stone Culture Council. In Jan. 2021, Westword magazine named Ricardo one of Six People to Watch in Colorado Cannabis, placing him alongside regulators from the Governor's and Mayor's offices and CEOs from multi-state operators.
Ricardo is considered to be the world's first (and "most prestigious" according to Vice) marijuana editor; one of Brookings Institution's 12 Key People to Watch in Marijuana Policy; one of Time magazine's 140 best Twitter feeds; one of Sensi magazine's 24 Cannabis Pioneers Who Matter.

Ricardo is a leading cannabis / media / drug policy expert profiled by The New York Times, Poynter, The View, The Colbert Report, Wait Wait Don't Tell Me—and a trusted source by This Week With George Stephanopoulos, Buzzfeed, NPR's All Things Considered, The Guardian, Esquire, Fast Company, Al Jazeera, BBC, Mashable, International Business Times and CBC.
---